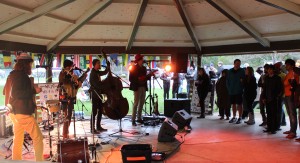 Rainy weather didn't stop Ferris students and the Big Rapids community from enjoying music, food and activities last Saturday at Hemlock Park.
Music on the Muskegon was a music industry management-sponsored music festival featuring performances by a variety of West Michigan performers including Appleseed Collective, Cabildo and An Dro.
The festival featured varying cuisine from Big Rapids vendors, and the Big Rapids Jaycees served Michigan beer and hosted games in Hemlock's baseball diamond.
According to Music on the Muskegon coordinator and Music Industry Management Association President Josh Olszewski, the weather was a bit of a challenge. The main stage and several activities had to be moved to Hemlock's picnic pavilion to keep equipment dry.
Still, Olszewski was enthusiastic about the turnout from both Ferris students and Big Rapids residents.
"It's been a wonderful experience," Olszewski said. "For the cards we were dealt, it couldn't have gone better."
Between musical acts, Music on the Muskegon's drum circle was the center of attention. Many attendees participated in a recycled drum workshop, where they used recyclable material to craft their own percussive instruments.
"Even with the rain, it's been fun," said Ferris hospitality management sophomore Tana Johnson. "Lots of people and good vibes."
The music industry management program approached the city of Big Rapids in March seeking approval to host the concert in Hemlock Park. The mission of the festival was to bring people together to celebrate culturally diverse food and entertainment.
"Nothing like this has happened in a long time and I think people are excited about that," he said.