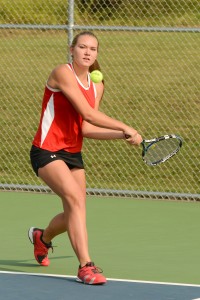 After breaching the halfway point in their fall season, the Lady Bulldog tennis team will head south to take on two more GLIAC opponents after splitting a pair of matches last weekend.
The Bulldogs will make their first stop at Ashland University to face the Eagles Saturday at 10 a.m. before traveling to Walsh University to go up against the Cavaliers at the same time Sunday. Last year's contest against Ashland saw a decisive 9-0 Bulldog victory, whereas last year's competition against Walsh saw a less decisive 5-4 victory, but a victory nonetheless for the Bulldogs.
The Eagles of Ashland are 2-6 so far on the season and are ranked ninth in the GLIAC. The Cavaliers of Walsh are 3-5 so far and they sit at the eighth spot in the conference.
Last Saturday the Bulldogs took on Findlay University where Ferris State triumphed at every possible opportunity, not losing a single competition in singles or doubles play. Bulldog sophomore Arien Kissinger helped the team by completely sweeping her competition in singles play. In doubles competition, junior Sydney Berens and senior Janie Sell swept their opponents as well.
The Bulldogs did not perform nearly as well on Sunday against the Dragons of Tiffin University, suffering a 5-4 loss. The loss suffered on Sunday was reminiscent of last year's contests against the Dragons. Ferris lost to Tiffin in the same weekend last October by the same score of 5-4.
The Bulldogs also lost to the Dragons in the GLIAC Tournament Quarterfinal last year 5-4.
Both Ashland and Walsh are fighting to get over the .500 mark in their respective seasons. No matter the outcome of last season's matches, the Ferris State women's tennis team will not be looking to take the weekend's challenges lightly. The Bulldogs will close out their fall regular season on the road at Grand Valley on Oct. 15.