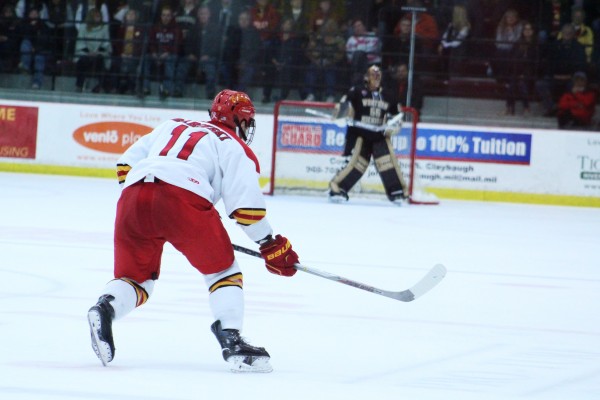 The Ferris State hockey team tied a gritty game with Western Michigan University on Saturday in Big Rapids.
The first period lacked goals, but was not short on the action. Ferris State put 10 shots on goal while the Broncos had 13.
One of the best chances for the Dawgs came midway through the first period at the stick of freshman Corey Mackin. Mackin fired three straight shots at the WMU net, but WMU goalie Lukas Hafner made the necessary stops with a little help from his defense.
The second period told much of the same story. Both teams had plenty of chances but could not convert.
Just 30 seconds into the second period, Western Michigan forward Frederik Tiffels was slashed on a breakaway by FSU defensemen Tyler Dorantes. Tiffels was awarded a penalty shot but FSU goalie Charles Williams came up with a big stop to keep the game deadlocked at 0-0.
The Bulldogs outshot the Broncos 14-13 in the second period.
It wasn't until the 13:59 mark in the third period when a goal was finally scored. Western Michigan's Kyle Novak scored a goal off a rebound for the Broncos. Griffen Molino and Frederik Tiffels were awarded assists on the goal for WMU.
The Bulldogs would answer with a goal of their own with 7:16 left in the game. Junior forward Kyle Schempp put a wrister in the back of the net after a beautiful pass from behind the net from senior forward Matt Robertson. Junior forward Gerald Mayhew was also awarded an assist on the goal.
The tie was almost broken by Western Michigan with about 40 seconds left in the game. On what looked like a sure goal for WMU, Williams reached back and made a miraculous glove save from his stomach, forcing the game to overtime.
Not a goal was scored in the overtime period, although the Bulldogs had their chances in the WMU zone as the clock ran down. Ferris State outshot the Broncos 40-37 in the contest.
Ferris plays against two games against Michigan Tech at 7 p.m. Oct. 16 and 17 in Big Rapids.