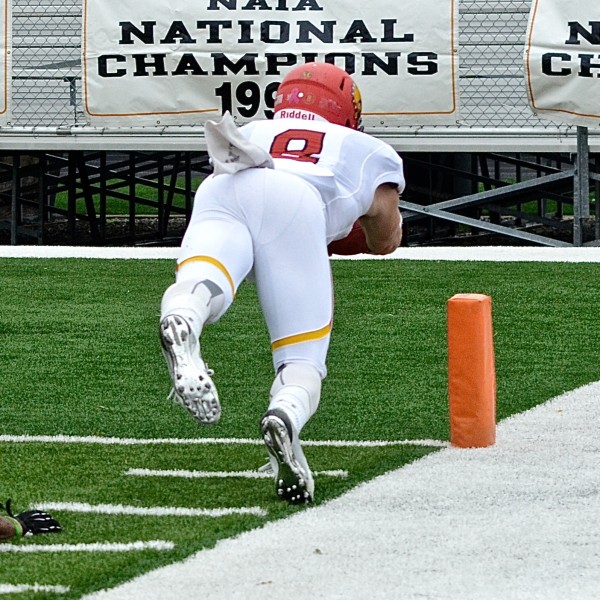 The Ferris State football team had no problem rolling over the Tiffin Dragons on their way to a 56-21 victory on Saturday.
The Bulldogs came out hot in the first quarter, scoring three touchdowns before the first 15 minutes rolled off the clock. This was a sign of things to come for FSU.
Just four minutes and twenty seconds into the game, Antonio Agurs scored on a 9-yard sweep to start the scoring for Ferris State. Shortly after, Jake Lampman caught a 19-yard touchdown from quarterback Jason Vander Laan.
Lampman would get his name on the stat sheet once more with 1:33 left in the first quarter when he scored on a 3-yard run to get the score to 21-0.
Ferris picked up right where they left off, scoring on their first drive of the second quarter on a 3-yard run from Vander Laan. He would follow that touchdown with another 26-yard rush TD on Ferris State's next drive.
Tiffin stopped the bleeding at the end of the first half with a 15-yard touchdown with just 27 seconds left in the second quarter to make the score 35-7.
At halftime, the Bulldogs had a combined 360 yards of total offense while Tiffin had 97 total yards.
The scoring didn't stop in the second half. Ferris running back Jahaan Brown started the scoring for the Dawgs with a 12-yard rumble into the end zone to increase Ferris State's lead to 42-7. Brown rushed for a season high 126 yards on 10 carries and one TD.
Ferris State struck again following a Tiffin three-and-out. Vander Laan connected with wide-receiver Jamel Lockett for a 68-yard TD on the first play of their drive. Shortly after, Jake Lampman would score his third touchdown of the day on an end-around.
Late in the third quarter, the Bulldogs removed their starters. The game ended with a score of 56-21 as the Bulldogs improved their record to 5-0 on the season.
Tiffin had a tough time stopping the Bulldogs on defense. Ferris converted on 12 of 14 third downs, and did not punt the football at all through the entire game.
Ferris will return to Top Taggart field next week to play Ohio-Dominican in a rematch of last year's second round playoff game where the Dawgs lost 46-33. The game will kick off at noon in Big Rapids.