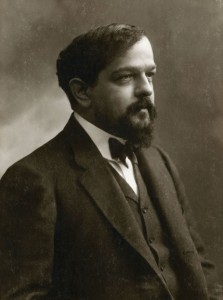 Obscure, contemplative and dream-like, the music of Claude Debussy sounds as fresh today as it did in the 19th century.
Debussy's softly stated piano compositions are perfectly suited for an evening of studying. My distractible mind is put at ease by the music's flow and texture, leaving me to focus on the project or assignment at hand. If you haven't studied with classical music before, I highly recommend it.
The French composer introduced a distinct flavor to classical music of the late 1800s that inspired music for film years later. His use of modes fuse the sound of western European, Russian and Asian culture. Imagine a painter finding a new color in the rainbow; Debussy's Etudes and Nocturnes for piano evoke feelings you didn't know you could have.
Many would describe Debussy's compositions as impressionistic, though he didn't like the label. He's often overlooked as a composer due to the simplicity of some of his music. But it's less about his technical proficiency and more about his imagination and ear for unique, captivating soundscapes.
For a modern American take on Debussy, check out Punch Brothers' cover of "Passepied." Voiced by mandolin, guitar, fiddle, banjo and bass, the song is a breath of fresh air and a testament to Debussy's skill as a composer. So when you decide to start that 10-page report, don't forget to feast your ears.