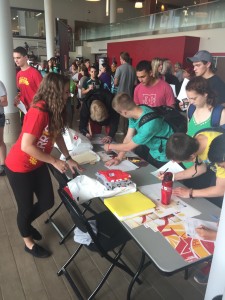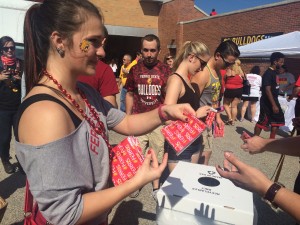 Signs, sunglasses, banners and buttons all showcase the #FERR1S hashtag to encourage students and staff members to discuss why Ferris was their first choice.
FERR1S, said as Ferris first, initially started as a social media campaign last year, but has quickly grown due to its success. It is now more than just a hashtag used by students and staff; it has become the university's main marketing strategy.
London Johnson, a Ferris social work senior, is pictured on a new FERR1S billboard on U.S. 131 as well as on one of the new streetlight banners along State Street.
"It was so cool because it made me feel like I am a representation of Ferris," Johnson said. "That makes me so happy because I put so much pride in the school and I hope to represent Ferris in the best way possible."
Johnson said that Ferris was her first choice because of friendly students, and helpfulness of the staff.
"I toured Ferris three times," Johnson said. "I knew that I needed to be here. I was meant to go to Ferris, without a doubt. I never want to stop learning. Ferris has been a good stepping stone for continuing my learning."
Sandy Gholston, Ferris News Services and social media manager, said the campaign was created to strengthen Ferris pride on campus.
"It's a great use of branding for the university," Gholston said. "We want students to show their Ferris pride. The ultimate measure of success is having students, alumni and staff feel and showcase their pride."
Gholston said the hashtag has encouraged students to share their stories in many different ways.
"The great thing about this campaign is that there are so many stories left to be told," Gholston said. "We are planning on expanding the campaign to Ferris students in Grand Rapids and across the state."
The campaign has already been expanded to include a television commercial as well as graphics and audio ads for streaming platforms like Spotify.
Anne Hogenson, the director of marketing, says the hashtag is a platform for students to share the things they are doing at Ferris.
"There are a lot of stories at Ferris about students, faculty and staff doing amazing things that can be told in this way," Hogenson said. "We hope we've created a format for people to share the things they are doing everyday. Together, they contribute something to the quality of education at Ferris."
"Regardless of their area of study or extracurricular interests, we are all working towards the same goal," Hogenson said. "When I was a student at Ferris many years ago, my favorite memory was that we were all doing different things but still working on the same larger project which was to educate ourselves and make the world better. We want the hashtag to be organic, not a function of marketing."
Ferris students can showcase their pride every Friday during the fall and spring semesters, and be rewarded for it. By wearing a FERR1S pride button, students can get a discount at Starbucks, The Market and the bookstore.
"We have had so many people engage with the hashtag and tell their stories," Hogenson said. "We are so happy that so many people have shared the wonderful things they are doing. It's a nice experience to be able to see the stories and realize that the university is making that possible."
There are currently more than 30 Ferris first profiles on the Ferris website, including video features. Students, staff or alumni interested in sharing why Ferris was their first choice can contact newsservices@nullferris.edu.
"We are excited to have so many people interested in sharing their stories," Gholston said. "We hope that continues to appeal to students considering Ferris as a choice."