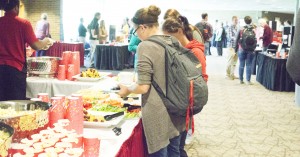 Not sure what you want to do in college?
Attending the second annual Colleges of Arts and Sciences (CAS) Majors and Minors Expo could have helped you out.
"Oftentimes what ends up happening is students don't realize the really cool options we have, whether it's a major or a minor," director of student academic affairs Anne Marie Gillespse said. "This way, they have a chance to find out more about the programs, and we want to try to help those students who might be a little career-undecided."
CAS students and non-CAS students were invited to the lobby of Williams Auditorium to visit information tables for each program and talk to students and faculty in each program. Students could also learn about study away or RSO opportunities.
Ferris journalism senior Ryan Parshall attended the event to scope out potential minors.
"I'm looking at humanities, and I like the idea of history because I took a lot of the courses," Parshall said. "There are also some really cool creative writing options."
Another thing that caught Parshall's eye at the expo was the food.
"It's ample," Parshall said. "It's an excellent spread. I got more than I expected. I saw the popcorn machine and thought that'd be it."
Gillespse said she started this event last year after seeing it done at other colleges.
"It's one of those really great ways for students to get a sense of what's going on," she said. "We're really excited about our programs. We have some really good ones and want students to find out about them."
Whether they came to the expo for the food or information, students were still steadily coming to the event.
"The turnout seems decent," Parshall said. "I'm glad to see how many students have taken interest in this."
If you missed the Oct. 8 event and have unanswered questions, you can still contact Gillespse at gillespa@nullferris.edu.