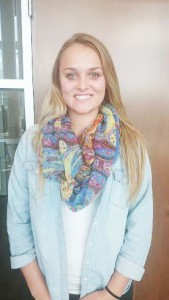 Diversity is becoming increasingly encouraged in today's day and age, not just between races, but also genders.
Madelyn Hamilton is a freshman in the automotive management program, which is primarily composed of male students.
"It's definitely a world guys are dominating in and I think girls need to be more involved in it," Hamilton said.
Hamilton recently was awarded a $2,500 Automotive Women's Alliance Foundation Scholarship.
"Ever since I was a little kid, I've always been interested in cars," Hamilton said. "My stepdad took me to a car show, and since then I've wanted to deal with cars."
Hamilton said that she really enjoys her program so far.
"It's interesting. I never thought I was actually going to have to work on the cars, because I just wanted to go into the business side, but now that I'm working on them, I think it's cool and fun," said Hamilton. "[The program in general is] a little bit more confusing than I thought it was going to be, but I'll figure it out."
Michele Harvey, faculty member in automotive management and Hamilton's academic advisor, suggested the scholarship opportunity to Hamilton.
"Basically, all the manufacturers are trying to promote diversity in the workplace," said Harvey. "One of the things they did was provide this scholarship opportunity for young ladies to come into the automotive industry."
Harvey said the automotive industry started out as a field predominantly for males.
"It's dirty, greasy and you have to lift heavy things," said Harvey. "Today the technology in the vehicles is so much less of those types of things, and more of understanding electronics. It's much more sophisticated, and people don't realize that."
Harvey also said that it's not just the automotive field that's pressing for more variety of new students and hires.
"There's a lot of effort to get more diversity, especially gender diversity, such as attracting males into the nursing program and so forth, because we know that diversity helps; it brings different perspectives," said Harvey. "Across the board, it doesn't matter what program you're in, you can create a better product by utilizing all of those different perspectives."
One thing that is specific to the automotive program is the new prospects for the field. Baby boomers are retiring and taking their knowledge with them, so there are job openings everywhere in the industry.
"I just want to stress the opportunities that are in the automotive field right now," said Harvey. "There are phenomenal opportunities for everyone. It doesn't matter if you want to work in a dealership or manufacture for a supplier–there's a wide array of jobs available."