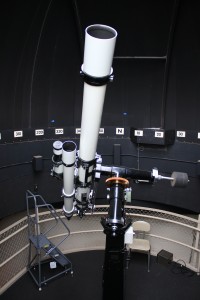 For the first time in five years, Ferris State students began the fall semester with a resource integral to the Physical Science department: the Rawlinson Observatory.
The observatory reopened in November of last year, but the impact is still fresh to astronomy students and professors alike.
Having been closed for repairs the better part of the past five years, the curriculum was lacking an organic component that the department as a whole felt was important. The telescope itself was in working order, but the dome didn't open and the tracking didn't work, which made the entire system unusable.
Dr. Thomas Brennan, another recent addition for Ferris in the fall of 2014, teaches astronomy and physics. Getting in on the ground floor with the reopening of the observatory, he agrees that there was something missing.
"I came here at the beginning of last year, which was when the observatory reopened," Brennan said. "It makes for a less satisfying astronomy class when you don't have a telescope to look through. So now that [the telescope] works, you can see Saturn's rings, you can see Jupiter and the red spot, and one of the coolest things to look at is the moon and the surface of the moon."
Up until this point, most of the astronomy classes have been re lying on digital imaging to provide visual aid for students, which allows for basic observation but, according to Brennan, lacks the depth necessary for actually understanding what is being seen.
"I think that you learn more than you would if you just looked at some high-resolution photos on the internet," Brennan said. "I think that having the actual physical experience–having the light coming from the sky and striking your retina, going into your eye–it impacts your mind in a much more profound way than just looking at a picture on a computer screen. It's just not quite the same thing. It doesn't get the soul of the experience. So yeah, you get that actual feeling of connection with the solar system."
The most recent notable celestial event was the super blood moon, which occurred on the evening of Sep. 27. Brennan felt it was important for the students to have access to the telescope that evening, but the obstructive cloud cover had different plans.
"I had an open observatory night for everybody at Ferris," Brennan said. "We had like 35 people come; it was overcast that night, though. Most of the students just came and left and didn't get to see that moon."
One of the students that stayed to witness the super blood moon peek out from the clouds later that evening was sophomore Alaina Tucker.
"A lot of people came and went, but we just waited and waited," Tucker said. "It was really fun to see something that nobody else really could see."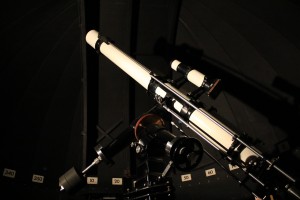 Brennan has primarily had the observatory open to Ferris students, astronomy students in particular, but hopes to eventually extend this resource to the Big Rapids community by opening the observatory to the public on clear nights