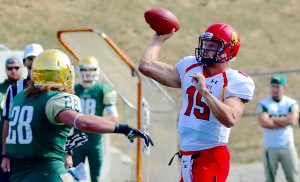 The No. 4 ranked Ferris State Football team rolled over Tiffin last Saturday 56-21 and look to keep their undefeated season alive against the 4-2 Ohio Dominican Panthers this week.
The Bulldogs found themselves in this same position last year. They were undefeated with high hopes heading into Panther territory. Ferris pulled off the win 34-19 and never looked back going undefeated the rest of the regular season.
Ohio Dominican and Ferris State met again in the playoffs when the Panthers knocked off the GLIAC Champion Bulldogs.
"We didn't execute. We played a tough game but you have to execute in the fourth quarter. We just didn't get it done," said head coach Tony Anesse.
Ferris had a three point fourth quarter lead only to watch it dissipate as Ohio Dominican outscored the Bulldogs 22-6.
Senior wide out Shakur Sanders said, "It was a really frustrating game. That feeling of not making it is the worst feeling ever. I don't feel like we prepared well the last four weeks of the season to lead up to the game. We got complacent and didn't have a sense of urgency to still be the dominant team we were in the first eight weeks. That's what happened in the fourth quarter. They wanted it more than we wanted it."
Sanders was adamant that nothing will be taken for granted this year.
"We were okay with being the conference champions, but that's not enough now. We have a chip on our shoulder and we have to put a mark on it that we're the best team for a reason," Sanders said. "Ohio Dominican is a great team, but this year it's going to be a whole new ball game."
The Bulldogs have gained 180 more yards and scored 12 more points per game this season compared to the Panthers, but Ohio Dominican has won their last three games and has momentum coming in.
Ohio Dominican was ranked as high as fifth in some preseason ranking polls but early season injuries set them back. They have dropped out of the top 25 after dropping games against ranked opponents Ashland and Grand Valley State.
A side story to the game is senior Jason Vander Laan approaching the all time NCAA record for rushing yards from a quarterback. He has ran for 5057 yards in his four year career and needs 71 more yards to catch the record of 5128 set by Shawn Graves from Wofford College.
Vander Laan said, "It's exciting [approaching the record]. It's nice to know we have five more games left. It takes the pressure off knowing that this isn't the last game and I have to get 71 yards. I could rush for 15 this week if that's how the game goes, but it's nice to know I have more games. It's not about the individual accomplishments though. My team allows me to do what I do."
Ohio Dominican has allowed 168.5 rushing yards a game this season and Vander Laan has averaged over a hundred yards rushing per game in his career against the Panthers.
The game kicks off on Saturday Oct. 17 at noon in Big Rapids, MI.