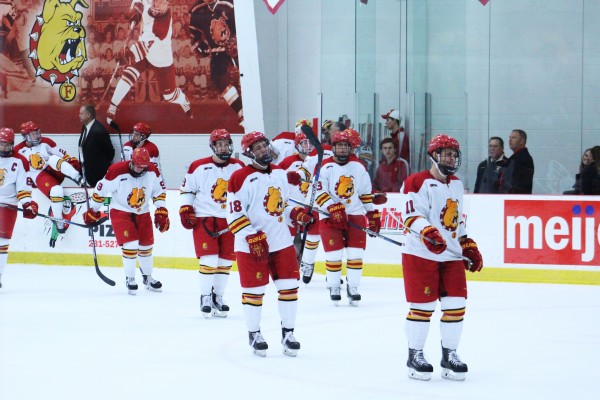 Though they came out with great energy, the Bulldogs had a hard time finding the back of Michigan Tech's net, taking a 5-1 loss in Big Rapids.
The first period saw two goals in quick succession for the Huskies. The first goal came off of a Husky power play, courtesy of junior forward Tyler Heinonen at 11:12 into the first. After the Husky power play had concluded, they still managed to get the upper hand on the Ferris State defense as junior forward Brent Baltus put another one into the net at 12:18 to make it 2-0 Huskies.
The second period saw just as many scores as the first for the Huskies, bringing in two more goals. The first of which came from senior forward CJ Eick at the 9:12 mark. Senior forward Alex Petan was able to capitalize off of another Husky power play to put Tech up 4-0 at 18:59 late into the second period.
The Bulldogs didn't wave the white flag there, as junior forward Chad McDonald was finally able to get Ferris State on the board just 16 seconds into the third period. It wasn't long after McDonald's goal that Michigan Tech struck once again on yet another Husky power play. It was Petan who found the back of the net for the second time on the night at 3:14 in the third to bring it to 5-1 Huskies, closing out the scoring on both ends.
The frustration was evident late in the game on Ferris State's end as they amassed five penalties in the third period. Brandon Anselmini was called with checking from behind and game misconduct at 9:51 in the third and did not return.
Ferris State junior goaltender Charles Williams was pulled in the third period at 13:01. Goaltender duties were then taken over by freshman Darren Smith, getting his first regular season action as a Bulldog. Smith allowed one goal during his time in net.
The Bulldogs are back in action to wrap up the weekend series with the Huskies tomorrow at 7:07 p.m. in Big Rapids.