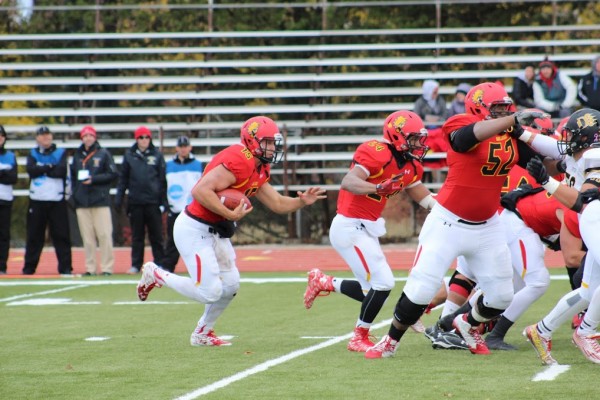 The No. 4 ranked Ferris State football team blew out the Ohio Dominican (ODU) Panthers in a redemption game 38-17.
Last year, the undefeated Bulldogs were knocked out of the playoffs by the Panthers.
Ferris State scored on the first possession of the game when quarterback Jason Vander Laan hooked up with junior receiver Shakur Sanders for an 18-yard touchdown pass.
Ohio Dominican responded on the following possession, but it involved a stroke of luck. Sophomore wide out Casey Williams fumbled the ball for the Panthers into the endzone where they recovered for a touchdown.
Part way through the second quarter, snow flurries started falling on Top Taggart field.
In the midst of the first snowfall of the year, Ferris ended the early tie when Vander Laan broke a 53-yard touchdown run midway through the second quarter.
On this run, he broke the all-time career NCAA record for rushing yards by a quarterback regardless of division beating the previous record of 5,128 set by Shawn Graves of Wofford College.
The All-American Vander Laan needed 71 yards coming into the game but he got all of that and more. He totaled 161 yards rushing for the day on 28 attempts with two touchdowns.
Vander Laan also had 159 passing yards and a touchdown completing 16 of 25 attempts.
After the FSU quarterback broke the record, Bulldogs broke away after that outscoring ODU 24-3 before the midway point of the fourth quarter.
With six minutes to go in the game, the Panthers showed some signs of life as they scored on a 50-yard drive that was aided by a pass interference penalty. However, the comeback was short lived as Ferris State answered with a four play, 70 yard scoring drive when Jamel Lockett took a lateral pass 59 yards to set them up with first and goal.
Ferris showed why they are the first ranked defense in the GLIAC with Ohio Dominican allowing just 245 total yards on defense.
Leading the way for the for the Bulldog defense was defensive tackle Justin Zimmer and linebacker Nick Huckabay with seven tackles apiece and a combined one and half sacks.    
Leading receivers for Ferris State were Antonio Agurs and Jahaan Brown with five receptions for 41 yards and three receptions for 45 yards respectively.    
The Bulldogs take on the Huskies of Michigan Tech next week in a battle of unbeatens. The game will be at Top Taggert Stadium in Big Rapids kicking off at 12:04 pm.