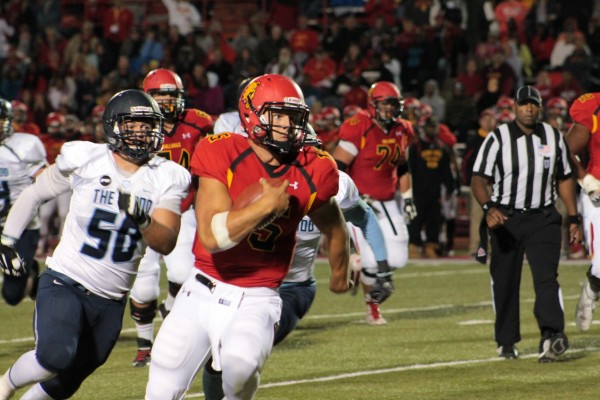 Ferris State quarterback Jason Vander Laan has been setting records left and right since becoming a Bulldog.
The 6-foot-4 senior from Frankfort, Ill. can now add one of his greatest achievements to his list of honors. The Harlon Hill trophy winner has now set the record for most rushing yards by a quarterback at any division.
Vander Laan surpassed Shawn Graves of Wofford College, who ran for 5,128 yards in his time as QB for Wofford. The record was broken Saturday in a game against Ohio Dominican. Vander Laan fittingly surpassed Graves on a 53-yard touchdown run that gave Ferris State a 14-7 lead.
Vander Laan will have plenty more time to add on to his record, as the undefeated Bulldogs have four more regular season games this year. He will look to further the gap between him and Graves next Saturday, Oct. 24 when the Bulldogs take on Michigan Tech.