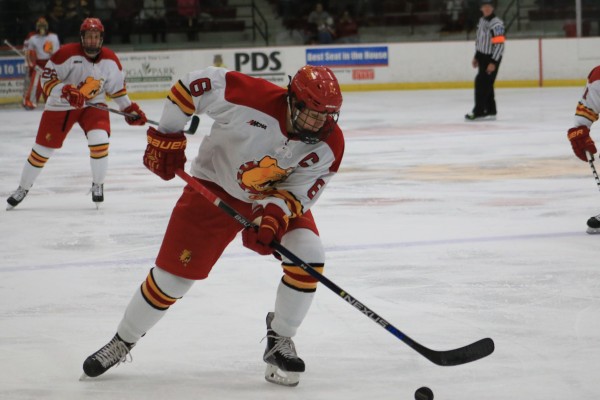 In their second meeting of the weekend against Michigan Tech, the Ferris State hockey team got their first win of the season in a 3-2 victory.
The first period of the game was scoreless as Ferris outshot Michigan Tech 12-5. The second period would be a different story.
Early in the second period, Michigan Tech struck first with an unassisted goal by MTU forward Malcom Gould. The Bulldogs would come back strong with a quick goal of their own on a 5-on-3.
Ferris needed to get a goal badly and put five forwards on the ice during the 5-on-3, and it paid off. Freshman forward Corey Mackin scored his first goal in a Bulldogs jersey about two and a half minutes after the MTU goal. Kyle Schempp and Matt Robertson assisted on Mackin's goal.
The Dawgs would capitalize again shortly after with a goal by Captain Kyle Schempp for his second point of the night. Robertson and Gerald Mayhew were awarded the assists to make the score 2-1 in favor of FSU.
The third period was scoreless until there was 9:46 left on the clock. Ferris sophomore Tyler Andrew scored on a goal after a Michigan Tech turnover in their own zone. Andrew Dorantes and Mackin assisted on the goal by Dorantes.
Michigan Tech didn't give up though, as Malcom Gould scored his second goal of the night with 2:48 left in the game. The goal wasn't enough as the Dawgs held onto their 3-2 lead until the final horn. With the win, the Dawgs improved to 1-2-1 on the season.
Ferris State will return to Big Rapids next weekend to play Wisconsin on Friday and Saturday at 7:07 p.m.