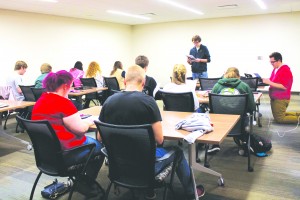 Acaholics became a registered student organization (RS0) this fall to spread their love for a capella music around Ferris.
A capella is a form of music that involves using only voices for lyrics and instruments.
"It can be really challenging at first because we're using our voices as every instrument, but it's so much fun," psychology senior Darcy Deckard and Acaholics president said.
Due to hard work from the executive board, Acaholics has already reached 25 members.
"When I tell people about it, their first reaction is usually something about Pitch Perfect, and that's something that we are trying to be like with competitions," said Brooke Ferris, an early childhood education junior.
According to criminal justice junior and Acaholics vice president Tyler Karum, social media and word of mouth were a huge help for getting a good turnout for the audition process.
"I just really want to make a legacy here at Ferris," said Karum. "I know everyone loves music and I think this is a start to something great."
Deckard's favorite part so far is getting to know everyone in the group.
"I know that I wouldn't have half the friends I do now if I didn't start this organization," said Deckard. "I love music, and I just want everyone else to feel how I feel when I listen to music."
According to Karum, Acaholics does more than sing. Acaholics does something called Acabonding, where the group tries to hang out and bond outside of rehearsals to create a close knit feeling.
Karum came up with the RSO's name by combing a capella and the term "holic" to create something that means addicted to a capella.
"If you're really into music, just give it a shot and come out to an audition," said Ferris.
Additions will typically be held once at the beginning of each semester, but it being a new organization, they are willing to work out details.