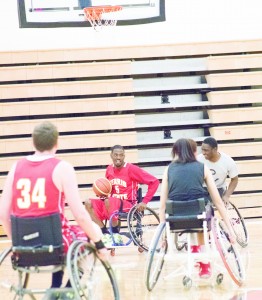 Ferris has built a strong athletic reputation already this year, but asking our athletes to compete in wheelchairs is another game entirely.
The Ferris State basketball teams played the Grand Rapids Pacers wheelchair basketball team last weekend at Wink Arena to raise awareness for those with disabilities and to break the stereotypes surrounding disabilities in sports.
All of the players, including Ferris players, played in wheelchairs. The Ferris team put up a good fight, but was ultimately bested by the Pacers.
James Chappell, a criminal justice senior at Ferris, played in the basketball game for the second time.
"Playing in a wheelchair is significantly more difficult than playing without it. After playing in the games, I have learned to have a different outlook on life because the Pacers are very active, very positive, and just having fun playing basketball. They are never down on themselves, and they taught me to be more positive."
Julie Alexander, an educational counselor at Ferris' office of Educational Counseling & Disabilities Services said the game is meant to show students that individuals with disabilities are just like anyone else.
"The goal is to challenge the stereotype that people with physical disabilities cannot play sports, be active or live fulfilling lives," Alexander said. "These players are quite athletic despite the fact that they do not run up and down the court. The Grand Rapids Pacers seem to have a great time when they play and they will tease and trash talk just as any athletes will."
This is the fourth year that Ferris has held the wheelchair basketball game. This is the only sporting event at Ferris that focuses on the inclusion of people with disabilities.
"I appreciate those guys for being around and telling their stories," Chappell said. "I was in awe from some of the things they said that they've been through. I've learned to cherish life more. I really appreciate them coming out and playing with us."
"It is often surprising to people how much athletic ability is required for wheelchair basketball and how enjoyable it is to watch," said Alexander.
Raffle tickets were sold at the game, raising $100 for a scholarship for a student with a disability through the office of Educational Counseling & Disabilities Services.
"We wanted to show people that even if you have a disability you can still be active," Chappell said. "You can cherish the stuff you do have because some people don't have that. Just be the best you can be and be grateful."