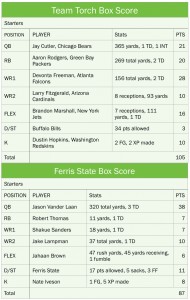 This week, having two quarterbacks worked in my favor. Although my dual QBs put up 41 points, Vander Laan almost matched it with 38 points of his own.
The Bulldogs' defense notched five sacks and three forced fumbles, which outscored my Buffalo Bills' defense by eight points. However, I was able to make my point advantage back at the running back position where the Atlanta Falcons' back, Devonta Freeman, got 21 more points than any Ferris running back.
One thing about Freeman, though, is that he can't say he's the all-time leading rushing quarterback in college football history like Vander Laan can. Freeman has been a complete animal for the Falcons and is the top running back in fantasy football so far this season.
With this win, my record improves to 2-4 against the Dawgs. Let's see what we can do next week. Here's my roster.
QB1: Matt Stafford, Detroit Lions  After an impressive outing last week against the Bears, I think Stafford and his offensive coordinator are finally getting on the same page. Stafford also has a 6-foot-5-inch security blanket named Calvin Johnson to help him.
QB2: Kirk Cousins, Washington Redskins:  This Holland native has been on-and-off all season long. Look for him to be on against Tampa Bay this Sunday.
RB: Chris Ivory, New York Jets:  Ivory has been a workhorse for the Jets lately. I think he'll be the only constant in the Jets' offense this week as they take on the New England Patriots.
WR1: Golden Tate, Detroit Lions:  I'm going to try to double dip twice this week with my wide-receivers so it's going to be all or nothing here. Tate was one of Matt Stafford's favorite targets last week and with a win last week, the Lions might actually be finding something with their offense.
WR2: Pierre Garcon, Washington Redskins:  Garcon is one of Kirk Cousins' favorite receivers. The Tampa Bay defense is pretty weak, so I think that Garcon will catch a touchdown or two this weekend.
FLEX: Jimmy Graham, Seattle Seahawks:  After being the best tight end in the league last year, Graham has been nearly non-existent after being traded to Seattle. The Seahawks play the 49ers this Thursday, and for some reason Seattle always shows up against San Francisco. I think Jimmy Graham will show up as well.
D/ST: Buffalo Bills:  They may have let me down last week, but the Bills play the Jaguars in London on Sunday morning. I think they'll bounce back big against a young Jaguars offense.
K: Sebastian Janikowski, Oakland Raiders:  This guy is getting up there in terms of age, but his leg is still one of the strongest in the game. He still has some 50+ yard field goals left in the tank.