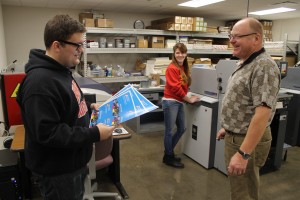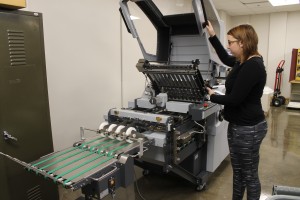 Last summer, the graphic media management (GMAN) program at Ferris changed the way its students learn entirely with a brand new office.
GMAN recently renovated and moved into the music industry management program's old office space in Business Building room 124. The office is now equipped with brand new printing equipment, including a FujiFilm Acuity LED 1600 Inkjet Printer valued at $120,000 dollars.
The printer is being used by Ferris for free as part of a consignment agreement with FujiFilm and can print on anything up to 63 inches wide and a half inch thick. Its uses include printing bumper stickers, car wraps and plastic signs; it can even print on aluminum.
The lab equipment is new to professors and students alike, presenting them with a learning curve.
According to GMAN professor Pat Klarecki, experience with the new technology will definitely make students seem more attractive to prospective employers, and with the field growing so rapidly this gives Ferris graduates a competitive advantage.
"The companies that hire our graduates are like, 'this is exactly what we need,'" said Klarecki. "The problem for them is that there are six to eight of them for every one of our graduates. So we are really trying to showcase and get people excited about the program so that we can get students in here."
When it's said that the field is growing rapidly, this is not an exaggeration. The Bureau of Labor Statistics reports 54.3% of the printing industry workforce is above the age of 45, so with a rising rate of retirement, graphic media jobs are becoming more available to graduates.
A key aspect of the GMAN program is a mandatory internship for all upperclassmen in the program. GMAN senior Samantha Hillock interned this past summer at Phillips Printing in Nashville, Tenn.
"When I first came to the program we really didn't have any equipment, just the digital press," Hillock said. "It's really nice because I did my internship last summer and I had some knowledge about it coming back." Klarecki said the internship is imperative to the program as a whole, providing hands-on experience for the students outside of the classroom, while also bringing something unique to lectures.
"[An internship] is a must," Klarecki said. "It really sets them up, and it allows for some very good discussions in our classes because they're bringing up real live things. So when we bring it up we sometimes pull that from the students and just ask, 'hey, you were at this company, what were they doing?' in the middle of a lecture."
Despite the excitement of having a new lab to work in, there are concerns about the number of students enrolling in the program. Only having two freshmen this year, recruiting high school students has become a must.
"We're doing many open houses," said Conati. "There are three this week and then we have one next week. We invited a lot of high schools and we're hoping that we get a lot of results next year."  GMAN junior Harold Burton was originally referred to Ferris while attending a career center, studying a field similar to GMAN. Working with a lot of older machinery while there, he believes that seeing more up to date gear will catch the eyes of prospective students.
"The tech center that I went to also had a lot of old stuff," Burton said. "So if I were in those shoes now and I were to come in here and see all this newer, more modern equipment I would definitely be drawn to it." Until last year, Ferris was a little outdated in the technology aspect of print media production themselves. GMAN major Erin Deater doesn't think that working with the old equipment was necessarily a bad thing though.
"There were kind of pros and cons to it because you get experience on different kinds of things," she said. "But it was also really antiquated and from probably before I was born. All the new stuff is obviously up to date and I think it gives you a better perspective on what you might be using in the future, whereas something we used to have before you wouldn't see."