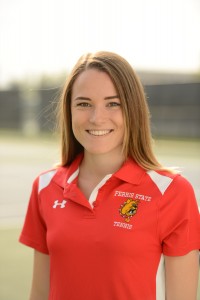 The Ferris State women's tennis team is preparing for the Great Lakes Intercollegiate Athletic Conference (GLIAC) tournament this weekend.
The top eight teams in the GLIAC will head to the Greater Midland Tennis Center and play each other in a playoff format. Ferris is the fourth seed heading into the tournament.
If the Bulldogs win their first match they will take on the winner of match one which will be either Grand Valley or Walsh. A rematch against Grand Valley is something that both teams would look forward to as Ferris beat Grand Valley this past weekend 6-3.
Shawnee-Ann Brelsford, number one singles and doubles explained what was going to be heavily stressed in practice this week.
"Definitely doubles because that was key in our victory in winning against Grand Valley because that helped take a bit of pressure off of singles even though we played really hard we were able to get the win that will give us more momentum heading into the tournament," Brelsford said.
Coach Chad Berryhill has this team playing well as they have won their last three matches.
"If we're able to pull out the win, more than a chance than not we will get a rematch against Grand Valley, which obviously after the win against them yesterday they we will be very excited to play us but we will be excited to play them as well. It will be a great opportunity for our team," Berryhill said.
The Bulldogs know they are going to have a tough first round, their previous meeting with Wayne St. ended in a  6-3 loss.
"I feel that as a team, we set the tone because it doesn't matter what the lineup is or who the opponents are, we still support each other and play as hard as we can to make sure to get the win,"  Brelsford said.
The matches will be this Friday, Oct. 23, at 6:45 p.m., Saturday, Oct. 24, at 3:45 p.m., and Sunday, Oct. 25 at 8:30 a.m., respectively.