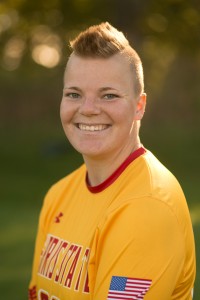 The Ferris State Women's Soccer Team has had a quietly historic season this year.
On a weekend where senior Jason Vander Laan broke the NCAA record for career rushing yards for a quarterback, the women's soccer team may have been overlooked.
The Lady Bulldogs have broken several school records this year.
With an overall record of 12-3-1, this year's Ferris soccer team has the most wins in a season and the best record through 16 games in school history.
The Bulldogs had a school record seven-game win streak broken by a tie against Tiffin in double overtime. The unbeaten streak extended to 12 before Ferris State lost to Northern Michigan in another overtime game this weekend 1-0. It is the only loss for the Bulldogs since the second game of the season.
They tied the school record for consecutive shutouts early in the season with three, but later had a different streak of four to break the record. Overall they have eight shutouts this season which is also a school record.
These records can be attributed to an experienced defensive unit with three seniors in Hunter Dolan, Ashley Bradstreet and Lindsey Scott. They have allowed the second fewest shots on goal in the GLIAC.
When they do let a shot go by, senior goalkeeper Maddie Haustein has been there all season with a GLIAC leading .910 save percentage.
The success of this defense comes from a team philosophy.
Senior forward Nichole Boehnke said, "We put an emphasis on fitness and defense at the beginning of the year and that has paid off. We have three seniors in our back line and they know how to play with each other. The communication is great and they help set up what we do on offense."
Boehnke was an all-GLIAC selection last year and leads her team in goals, shots, and shot on goal percentage with seven, 34, and .588 respectively.
As good as she has been, her teammates have been instrumental in running the offense with great ball movement. Junior defender Meredith Smith, sophomore midfielder Rachel Fouts and freshman defender Carley Dubbert have a combined 14 assists and 34 points.
Combined, the offense and defense has put Ferris state ranked second overall in conference scoring 15 more goals than they have allowed.
"I really think we can make the top four in the GLIAC and make it to the national tournament," said Haustein. "We're all excited. We set goals at the beginning of the season and the first goal is to win the GLIAC."
The Bulldogs have two games left on their schedule against Ohio Dominican and the No. 4 team in the nation Grand Valley State.
Grand Valley is second nationally in goals scored with 73 on the year while allowing only seven.
Ferris State must win out and Grand Valley has to drop the next few games if the Bulldogs are to win conference.
Ferris plays Ohio Dominican at home in Big Rapids on Sunday, Oct. 25 at 12 p.m. and at Grand Valley State in the regular season finale in Allendale at 7 p.m.