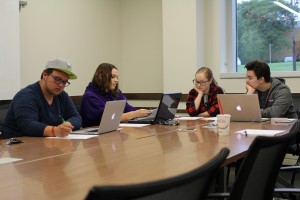 A new student organization for lesbian, gay, bisexual and transgendered student support is sounding off with a campaign called Your Words Have Power.
Advocacy and Education for Gender Identity and Sexuality (AEGIS) received registered student organization status last April.
"We're here to bridge the gap between the LGBT community and the rest of campus," said AEGIS president and Ferris social work freshman Connor McGahan.
Your Words Have Power will continue to spread the AEGIS message, beginning with an event about inclusive language and how to make a difference in the community at 7:30 p.m. on Wednesday, Oct. 28th, in IRC 115. AEGIS is collaborating with the Student Michigan Education Association to organize the discussion-based event.
Inclusive language is very important to the group's education initiatives. They teach that people should ask if they are not sure of what pronoun someone prefers to be referred as.
"Getting misgendered sucks," said Lucas Gillis, AEGIS's treasurer.
"It is better to ask than to assume and ruin someone's day," said Angelica Treu, a junior in the psychology program and the community service chairwoman for AEGIS.
AEGIS is also in the process of producing videos about the language used on campus and how it can affect other students negatively.
Also included in the campaign will be a speaker series. AEGIS will have a speaker come in to talk about inclusive language relating to various populations every other month starting in November. The group is actively looking to other student organizations and departments for collaboration.
The student group is made up of seven active members and is actively seeking new recruits. Students interested in joining AEGIS can attend meetings at 5 p.m. on Thursdays in University Center room 124.