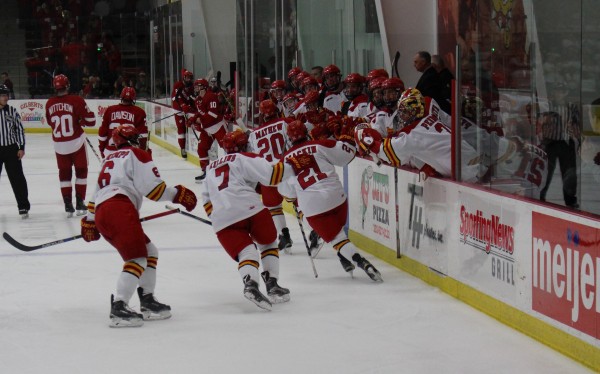 The Bulldog hockey team tied the Badgers of Wisconsin 5-5 in Big Rapids on Friday, Oct. 23 in their first meeting of the weekend.
The Bulldogs struck first with a goal from junior forward Gerald Mayhew. Bulldog captain Kyle Schempp was awarded the assist. The rest of the first period was scoreless, and the Dawgs outshot Wisconsin 10-7.
The second period started out opposite the first, as Seamus Malone of the Badgers found the back of the net about two minutes into the period, tying it up 1-1. Gerald Mayhew answered with another goal of his own off a Bulldog power play. He was assisted on the play by Corey Mackin and Kyle Schempp, making it 2-1 Bulldogs.
Things started to pick up once again for the Badgers when Jake Linhart scored his first goal of the night off a power play midway through the second period on an assist from forward Cameron Hughes. Wisconsin scored the next two goals of the game only 30 seconds apart, the first coming from Grant Besse who was unassisted and the second goal coming from forward Will Johnson. Johnson acquired the assist from Adam Rockwood. The score was 4-2 at the end of the second in Wisconsin's favor.
Ferris State made a change at the goalie position at the start of the third period, substituting freshman Darren Smith for junior Charles Williams.
The Bulldog offense came out ready to play in the third, striking first with a goal from forward Matt Robertson off the assist from Gerald Mayhew and Kyle Schempp to make it 4-3. Ferris State wasn't done there, as forward Tyler Andrew scored a goal at 10:09 in the third off an assist from Andrew Dorantes and Corey Mackin, bringing the score to 4-4.
It was Chad McDonald who scored the final Bulldog goal with under two minutes to play in the game, putting the Bulldogs up by 5-4.
The Badgers pulled their goalie to give themselves one more man on offense and it worked in their favor. Wisconsin defender Tim Davison put one past Darren Smith with 20 seconds left to tie the game 5-5.
The game then went into a five minute overtime period that didn't see either team score a goal, cementing the 5-5 tie.
The Bulldogs will play Wisconsin again at 7:07 p.m. on Saturday, Oct. 24 at Ewigleben Ice Arena in Big Rapids.