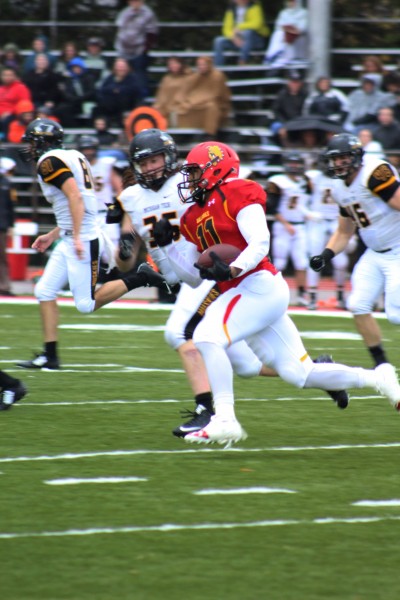 Downpours caused trouble for Ferris State as they had their sloppiest half of the season with three turnovers and numerous drops, but still squeaked out a 24-14 win over the Huskies.
The Bulldogs were held to a halftime season low-52 rushing yards.
Instead of the top-ranked offense getting it done, special teams got the scoring started. Junior cornerback Jaleel Canty took a punt 71 yards for a touchdown. It was the first punt return Michigan Tech has given up in 11 years.
After a Huskie 3-and-out, a 24-yard reception from junior receiver Jamel Lockett set the Bulldogs up for a field goal.
Michigan Tech seemed determined to pound the ball as they totaled 143 yards rushing on the day including a pair of 1-yard touchdowns from sophomore fullback Alex Sherbinow.
Ferris State's offense finally got a spark from senior receiver Jake Lampman who burned his man down the middle for a 70-yard touchdown reception delivered by fellow senior Jason Vander Laan.
Michigan Tech received the ball in the second half but it was really Ferris State with the first drive after Canty added to his impressive day with an interception on a deep MTU pass. Vander Laan finished off the drive with a 14-yard touchdown run to put the Dawgs up 24-14.
The elation was short lived as Vander Laan had his second turnover on the next series.
Ferris State was knocking in the red zone midway through the fourth quarter, but Tech's defense came up with a big stop to force a turnover on downs. The Bulldog defense responded with a stop of their own, forcing a three-and-out and knocking MTU's starting quarterback out for the remainder of the game after an ugly late hit.
Inclement weather picked up in the closing minutes of the fourth quarter, and the slippery conditions combined with MTU's second-string quarterback Jake Brown's inexperience proved to be too much for the Huskies to overcome, and the Dawgs came away with the 24-14 victory, just as dark clouds broke and the sun shone down on Top Taggart Field.
Vander Laan finished the day with 245 total yards, and one touchdown through the air with one more score on the ground. Lampman totaled 98 receiving yards and a touchdown.
Senior defensive tackle Justin Zimmer was ravenous in this game, tallying 19 total tackles and six tackles for loss. Canty and fellow Ferris cornerback Troy Smith both snagged an interception as well.
Ferris moves to 7-0, and will head to Ohio once again next week when they take on Lake Erie. Kickoff is set for 1 p.m. on Halloween day, Oct. 31.