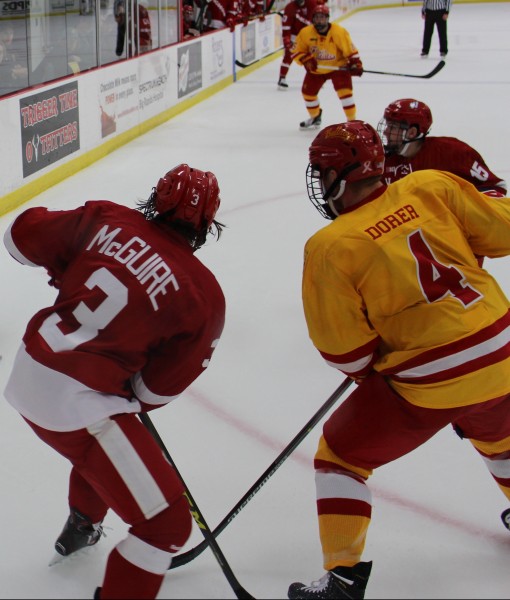 Ferris State struck gold when they suited up in gold throwback jerseys featuring crimson cursive script in Saturday's 2-1 win over the Badgers of Wisconsin.
The first period was reminiscent of the first game in the series, which ended in a tie after a scoreless overtime period. The teams were tied at the conclusion of the first, and both had fired 10 shots total going into the intermission.
The second period was playing out similarly until the 14:00 mark when freshman defenseman Ryker Killins scored his first goal in a Ferris State jersey with the help of assists by junior right wing Gerald Mayhew and junior center Kyle Schempp. Though, this goal also showed traces of yesterday's contest. The goal had to be reviewed before being reaffirmed and solidifying the Bulldogs' 1-0 lead, just as the Bulldogs had multiple goals reviewed in the previous game.
The Bulldogs would sit on the lead until the end of the period, and started to pull away in the shot total, piling on 26 to Wisconsin's 18 before the second intermission.
The Badgers thought they were making a comeback less than thirty seconds into the third period when Wisconsin's Luke Kunin scored on the power play. However, junior right wing Chad McDonald had other plans, as he scored a goal of his own just 19 seconds later. Senior defenseman Zach Dorer and senior center Kenny Babinski were credited with assists on the goal.
The flurry of offense early in the third period dissipated as neither team scored for the remainder of regulation, thus earning the Bulldogs their second win of the season. The Dawgs ended their series against Wisconsin with a 1-0-1 record, and improved their overall record to 2-2-2.
Filling in for junior goaltender Charles Williams, freshman Darren Smith stood strong between the pipes for the Bulldogs, allowing just one goal on 30 shots.
The Bulldogs will hit the road to take on Michigan Tech next weekend. The Dawgs split a series with Tech earlier this year when they fell 5-1 in front of their home crowd before besting the Huskies 3-2 in Big Rapids. The puck drop for this weekend is scheduled for 7:07 p.m. on both Friday and Saturday in Houghton, MI.