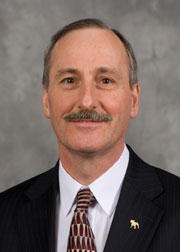 Ideas for how to better conserve Ferris waste are already circulating among members of the newly formed Environmental Sustainability Task Force.
The task force will focus its efforts on finding low-cost ways for the university to reduce its waste.
"One of the goals of the process is to learn more about what we are already doing across the many parts of the university," said Vice President of Administration and Finance and task force member Jerry Scoby. "While we have much more we can do, there are a lot of great things being done or are underway, and part of the opportunity here is to do a better job of telling this story."
The student members of the task force were nominated by Ferris administrators.
"We are very excited to have some student leaders to be part of this task force," Scoby said. "I am really looking forward to this group of very talented people coming together and making a difference for our campus in the years to come."
Harmin Gill, a member of the task force and a psychology and nursing double major at Ferris, agreed with Scoby.
"The task force is going to make Ferris more green, help cut down on pollution and work to save the planet to make sure that it's around for a long time," Gill said. "We want to eliminate extra waste at Ferris."
Gill hopes she can bring everything she learns through the task force to student government, where she is also a member.
"My goal is that I will learn things on the task force, share with student government and then figure out how to implement changes across campus," Gill said. "It's just one step at a time."
"There are simple ways to eliminate waste," Gill said. "I use recyclable water bottles to help eliminate waste. I also use my own coffee cups. If I need to throw out papers, I look for recycling bins so that way they can be reused for something else."
Gill says that the Environmental Sustainability Task Force has both short and long term goals that will be implemented because of all of the members of the force.
"There are people on the task force who can actually make the changes Ferris needs," Gill said. "Together we will figure out what works and how to hit every side of the issues. Working together and with the community, we will figure out how to make changes."
Along with Gill and Scoby, the task force includes Gayle DeBruyn, Rafael Dominguez, Kayla Garrett, Katie Hoisington, Jennifer Johnson, Bryan Marquardt, Mike McKay, Kara Pellerito, Alison Popp-Meier, Mark Schuelke, John C. Smith, Margaret Wan, Kirk Weller and Michael Williams.
Those with questions or concerns about sustainability on campus are encouraged to contact a task force member.