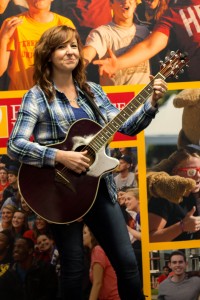 If you want to hear an inspiring story of someone chasing down their dreams while juggling a job, a family, a musical hobby and a full load of classes, look no further than Allison LeVeque. LeVeque is a nontraditional student in her first semester in the criminal justice program here at Ferris.
"I want to help people," LeVeque said. "I would like to be a juvenile probation officer for troubled youth. They could really use a hand because they're not all bad kids. They make a bad decision, or sometimes they grow up in bad homes, and instantly they're labeled bad. Sometimes they just need a little guidance. I know you can't save them all, but if I could save one, it would be totally worth it."
So far, she's enjoyed her time here at Ferris.
"Ferris is different," she said. "I've made a lot of friends, which I wasn't expecting since I'm a decade older than all the other freshmen, but it's been really fun. There's a lot of culture here that people wouldn't anticipate before coming."
LeVeque graduated from Big Rapids High School in 2004 and worked as a body piercer for a while before getting a job at Quinn's Music. LeVeque has worked at Quinn's for seven years and currently still does.
"I'm a sales associate/everything," LeVeque said. "The only thing I don't do is repair instruments. We're kind of the central music hub of town, not just the local music store. There are a lot of community things we do as well. We're all like family, even though some actually are. There's a few of us there that aren't but might as well be."
She's also a longtime musician, singing for as long as she can remember and playing guitar since she was 7.
"Music's always been a big part of my soul," LeVeque said.
LeVeque grew up in a musical family. She's been in a few local bands: Arch Rival and Kheperu to name a few, and has most recently formed a cover band called UnCovered.
"I try to perform as often as possible, but now that I'm in school it's a lot harder to do," she said. LeVeque said she will continue to be a musician after graduating from the criminal justice program.
"No matter what, that will never ever change," she said. "I'll always be a musician and a lover of music, even if I'm not performing all the time."
LeVeque has a two-year-old son and is engaged, so it does make it a little harder to be a student and have a job. "Sometimes I want to rip my hair out, to be perfectly honest," she said. "But I wouldn't trade it for anything. I'm a much better student now at 29 than I would have been 10 years ago. It's been tricky scheduling everything and making everything work."
However, she still decided to come to Ferris so she could better provide for her family.
"I wanted to give my son a better life," she said. "Once you have kids, your whole world changes. Every aspect of your life does a complete 180. And I love my job at Quinn's. I have amazing friends and family there but it's still a job at a small local business."
Finally, LeVeque said for other people who are thinking about coming to school: you're not too old.
"That's what they've been drilling into me for months, and now I can see that," she said. "I've had to learn how to do things differently, but I've had a really great time in school. It's never too late to follow your dream."