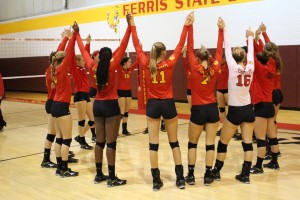 The Ferris State volleyball team is now the No. 1 ranked team in the nation in Division II.
The Bulldogs jumped from the No. 3 spot to the No. 1 spot after a pair of 3-0 wins against conference opponents Findlay and Hillsdale last weekend. With those wins, Ferris improved their record to 22-1 on the season. Their only loss came to No. 7 Wheeling Jesuit back in late September.
The Dawgs hopped Northern State University after the Wolves lost their first match of the season last weekend against No. 4 Southwest Minnesota State. Ferris also surpassed the former No. 1 University of Tampa Spartans, who dropped to No. 5 after suffering their fourth loss of the season to the unranked Lynn University Fighting Knights.
FSU is a perfect 11-0 in conference play this season and will take on two more conference foes this upcoming weekend. The Dawgs will head north this weekend to defend their No. 1 ranking against Michigan Tech and Northern Michigan.
Being on the road hasn't seemed to bother the Dawgs much this season. FSU has compiled an 11-1 record in games that haven't been played in Big Rapids. Ferris is 4-0 when playing on their opponent's court and 7-1 when playing at a neutral site.
Their game against Tech will take place at 5 p.m. on Friday, Oct. 26 in Houghton, Mich. The Dawgs will take on Northern on Saturday, Oct. 27 in Marquette, Mich.