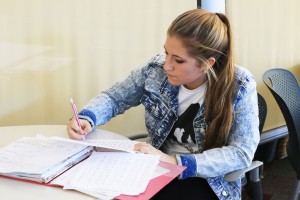 Stress is often called the "silent killer" and recognition of Stress Awareness Day on Nov. 4 couldn't be timelier.
From mid-term exams taking their toll over the past few weeks, to the increasing complexity of projects and the upcoming final exams and project deadlines, students are aware of the effects of stress.
High levels of stress can have harmful physical effects on the body over time, such as high blood pressure, digestive problems and decreased ability to fight infections. Mental abilities can also become dulled and sleep might not be as restful. Poor communication can cause relationships to suffer and can also be brought on by prolonged, poorly managed stress.
"We communicate so much through social media, emails or via text, so sometimes things can be misinterpreted or they're shortened when in conversation and may take more explanation," said Katelyn Cable, who is a Western Michigan University grad student but is interning at Ferris' Personal Counseling Center. "Sometimes with healthy relationships, being open and honest with your communication can be helpful. Because I think that relationships are important to us, and when something's important to us, it's a natural trigger for stress."
According to Cable, feeling isolated or nurturing connections can be the difference between feeling helpless and being strong.  "Being away from some of our social support and our hometowns can be hard," said Cable. "Because we're building a new support system on campus. It's really important to be conscientious about who positive people are and who we want to be around so when you are feeling stressed, you can have people around to talk to."
For Ferris respiratory care junior Marcus Owenson, family is everything. His family is a source of stress and inspiration, and ultimately is what drives him here at Ferris State.
"I'm a parent, so trying to maintain my school schedule and find the time for my daughter is very hard. And having a job, it's difficult. It can be very difficult," said Owenson. "You've got to want to do it for your child, first and foremost."
To help reduce stress, Owenson said he likes to go to the Rec during his free time.
Ferris social work senior Sara Rae makes time for herself in her busy schedule. Rae said working part-time and taking full-time credits can become extremely stressful.
"I'm a part-timer, but usually part-time means 30 to 35 hours plus the 15 credits I'm taking," said Rae.
Rae has some strategies to help her get through her day, which includes starting her day with meditation.
"I do a lot of yoga and meditation," said Rae. "I learned meditation mostly through social work because they always say it's a really good way to relieve stress. And I write a lot of 'to do' lists."
Ferris automotive engineering technology students, senior Weixing Zhou and junior Linxiong Meng said students must be passionate about their chosen majors. Zhou said your passion must be what gets you out of bed every morning.
Fun is also important to Zhou and Meng for destressing.
"We like to get together for good drinks, and to laugh and talk," said Zhou. "Also, for good food."
Meng said that if a major or career isn't a good fit, then some serious consideration should be given to changing majors. Meng advocated this before becoming overburdened.
"I'll say this, people are like a spring," said Meng. "You apply too much load, too much stress, and it's not going to recover. It's not going to come back."