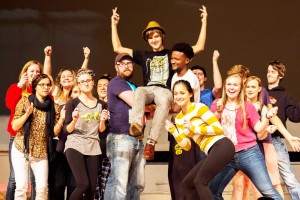 "Dirty Rotten Scoundrels" is premiering at Ferris State University for the fall musical on Thursday.
The musical is based on the popular 1988 film, which takes us to the French Riviera for hijinks and hilarity. This comedy is sophisticated, suave and has a good dash of mischief and hysterical lines.
"The audience should expect to laugh," said Ferris nuclear technician junior Meredith Hague, who has a lead role in the musical. "There are a lot of really inappropriate jokes in it, so that's fun."
Katherine LaPietra, a Ferris theatre professor, said the cast's talents are amazing. She also said she's proud of the cast for their willingness to do this and for their love for this crazy thing called theatre.
The cast has been rehearsing for over a month to be ready for opening night.
"So much time and effort is needed from everyone during every rehearsal and rehearsals are usually at least four hours each week night," said Ferris dental hygiene sophomore Matt Marenger, who is also one of the lead characters.
According to Marenger, the cast also has to spend time outside of rehearsal going over lines to make them stick in their memory.
"The hardest parts are definitely memorization of lines, choreography and blocking with a busy schedule," said Ferris hospitality junior Kayla Garrett. "Regardless of the amount of work we put in, it feels like theatre is almost a 24/7 thing most weeks."
Garrett said her favorite part has been bonding with the cast.
"You end up as close as a family, and that never goes away," said Garrett.
According to Hague, when the show is over, everyone will want to sleep and catch up on studying and homework.  "Honestly, once the show is over, I will miss my cast and want to just hangout with them," said Hague.
"The show is really funny and is meant for a college audience," said Hague. "We didn't dumb it down for families, so I really think Ferris students will enjoy it."