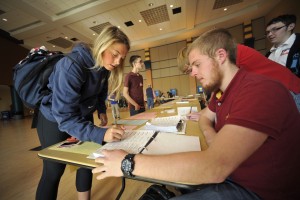 For those of you who don't know, President Barack Obama is finishing up his last few months in his final term as President of the United States of America.
For some, like myself, this moment is bittersweet. And for others, you may think it's about time.
But, my question for you all is this: who are we going to elect in this upcoming 2016 election?
There are several candidates to choose from and I'm here to encourage you all to take all the time you need in order to choose correctly.
We all use social media right? At least once a month there is a new Snapchat story promoting the 2016 presidential campaign. The story updates on state dinners, speeches, candidate info and even debates.
By watching this, you might see something or someone jump out at you. Personally, I enjoyed watching Katy Perry open up for Hilary Clinton before her speech at a rally recently in Iowa.
Aside from Snapchat, Twitter and Instagram have been posting sponsored messages about the election. Everything from dope "Rock the Vote" artwork to "What presidential candidate would you vote for?" quizzes.
Since there are so many forms of communications through social media, there is no reason for you to be behind on the update of the polls.
Every single candidate has a website. On their website they have their bio information and the complete breakdown of their vision for the United States of America.
So if you decide to be one of those "my vote doesn't matter" people, do you boo. But my Grannie always told me, "A closed mouth don't get fed." So if you don't vote, don't complain.
If you want something to be done about the available amount of financial aid you get because your parents make too much, pick the candidate that advocates for the change in economic equality. Are you pro-choice? Pro-life? There's a candidate advocating for you!
And hey, do you want the people who've established themselves to stay on top and people in poverty to stay there? As much as it hurts me right in the feels to say, there is a candidate for you too, friend.
There is a candidate who agrees on support of gun control and even one who is demanding equal rights for women. There's a candidate for everybody. Seriously.
Voting is one of the ways we can declare public opinion. Voting helps define today's problems and gauge the outcome of them not being addressed. Even if you vote for someone because of that one thing you believe in them for, vote!
Rome wasn't built in a day. Economic development and societies won't change overnight. To vote is to believe that a change will come.
Regardless of who you vote for, vote for someone. I promise you friends, it's important. More than you know.