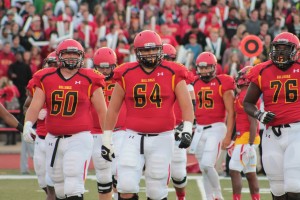 Behind every great set of offensive weapons is a group of guys who do what they do best in the trenches: protect their brothers.
The Ferris State football team has had an amazing run in their past two seasons, and that success has come in big part to the offensive line. Men like quarterback Jason Vander Laan, running back Jahaan Brown and receiver Jake Lampman receive the glory when they cross the plane and put six points on the board for the Bulldogs. But the development and process that goes into each scoring drive starts on the front line, where the big men go to work.
The humble men on the Ferris State offensive line don't see their accomplishments as less glorious than those of the skill players. They know that their place on the front line is where they can best help the team to succeed, and the skill players know that as well. Jahaan Brown, the Bulldog's sophomore running back from East Grand Rapids, explained how the big men help him and the team.
"If we didn't have those five guys up front, Ferris State football wouldn't be much. They make our game plan that much easier. We depend on those guys more than we depend on any one specific group on the team," said Brown. "Those guys have been coming together up front these past few games."
Brown is more than correct on that last statement, as the Bulldog front line has helped their offense put up 296 total points through seven games so far this season. As impressive as that number is, through seven games last year the Bulldogs put up 342 points, a feat difficult to achieve without a powerful front line.
Any offensive line must be a cohesive unit in order to be successful. Everyone must pull their part of the load to make sure that there is no weak link in the chain. Bryan Bell, a junior from Walled Lake. is one of the men on that offensive line.
"We all have a common bond being offensive linemen, just embracing the grind and proving our worth in the trenches. We work to give our skilled players the best opportunity to break for a big one," said Bell. "We try to stay loose and goof around with each other, but when it's time to watch the opponent and play, we have no choice but to be a dominant unit, or else it's going to be a bad day for us and the offense."
Bell also talked about what it means to him and the guys to be able to be a part of history with Jason Vander Laan's NCAA all-time leading quarterback rushing yard record.
Bell said, "Jason's one of the hardest working people I know and has worked for everything he's earned. The offensive line takes pride in protecting him and being able to add onto his all-time rushing record. It's good knowing he's behind us and that when he has the ball it will most likely be a positive play."
The Bulldog offensive line isn't done protecting their offensive weapons yet, as they have three regular season games left this year. Ferris State plays Lake Erie at 1 p.m. Saturday, Oct. 31 in Painesville, Ohio.