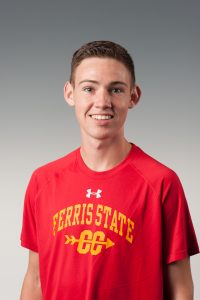 The Ferris State men's and women's cross country teams both took seventh place in the GLIAC Championships on Saturday, Oct 24.
The men's team had 168 points and the women's had 184 points.
On a day where Grand Valley State University placed six men and four women in the top 10, the rest of the field was in a race for consolation.
Storms were expected, but the conditions for the course were ideal as sophomore Trevor Halowaty ran a personal best of 25:00.7. He took home All-GLIAC second team honors along with junior Logan Hammer coming behind shortly with 25:01.8. The two took 14th and 16th place overall respectively.
Rounding out the top five for the men were junior Kyle Richardson, sophomore Clayton Springer and sophomore Hunter Nivision with times of 26:10.6, 26:13.0 and 26:13.5.
No women Bulldogs placed, but leading the way for them was senior Emily Haynes, 25th on the day, with a time of 23:13.3. Seven spots behind her was sophomore Rachael McDonald with a time of 23:24.4.
Rounding out the top five for the women were sophomore Jessica Delaney, junior Samantha Humphery and senior Kristie LeSage with times of 23:33.3, 23:40.8 and 23:41.2 respectively.
The Ferris cross country team will be in action next in the NCAA-II Midwest Regional Championships where Logan Hammer believes the Bulldogs have an advantage.
"I'm more than confident [going into regionals]," said Hammer. "The regionals course is 2000 meters longer and that's going to play completely in our favor. We're a strength-based team that has been practicing for a flat course all year. We have guys who can run a slower speed for a longer time while these other schools have guys who run fast for short periods of time."
The NCAA-II Midwest Regionals are on Tuesday, Nov. 17 in Evansville, Ind.