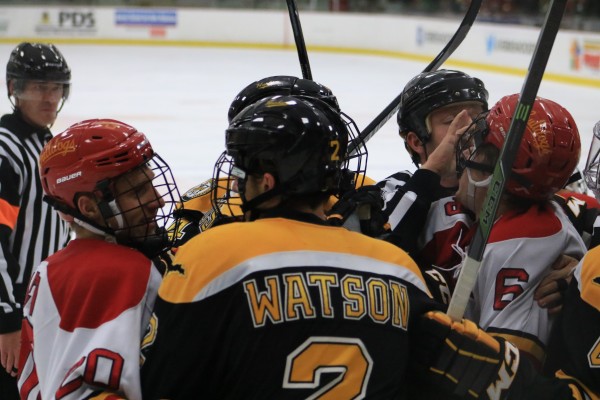 The Ferris State hockey team started strong but couldn't hold off a late charge from the Michigan Tech Huskies on Friday night.
The Bulldogs lost 5-4 in overtime in their third game against Michigan Tech so far this season.
Ferris junior Jared VanWormer started the scoring with a goal off assists from junior Kyle Schempp and senior Sean O'Rourke just over eight minutes into the game.
The Bulldogs struck again about two and a half minutes later with a Matt Robertson goal off of a Gerald Mayhew assist to put the Dawgs up 2-0. Michigan Tech answered with under two minutes left in the first period with a goal by Tyler Heinonen to cut the lead to one.
Ferris State responded quickly with another goal of their own with just 37 seconds left in the period. This time, Mayhew fed sophomore Andrew Dorantes to give the Dawgs a 3-1 lead going into the second period.
Michigan Tech came back strong in the second period, scoring two goals in the first six minutes to tie the game up at three. Ferris would answer late in the period with a goal by freshman Corey Mackin. Mackin was assisted by sophomores Tyler Andrew and Andrew Dorantes on the goal.
After four goals in the first two periods, the Bulldog offense slowed down in the third period. The only goal scored in the third came from the stick of MTU's Matt Roy just over five minutes into the period. The score would remain 4-4 until the end of regulation.
In a five minute overtime period, Michigan Tech struck late when Malcom Gould squeaked one past FSU goalie Charles Williams with 46 seconds left in the contest to win 5-4.
The Bulldogs will get another shot at the Huskies on Halloween night in Houghton, Mich. The puck drops at 7:07 p.m.