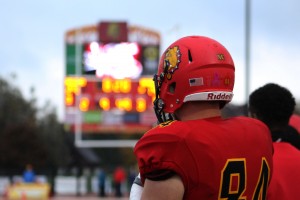 After breezing through Lake Erie 70-19, the undefeated No. 3 Ferris State football team will take on the 5-4 Northern Michigan Wildcats this weekend.
Last year, Ferris beat Northern Michigan 35-17. The Bulldogs outgained the Wildcats 483 yards to 278. Northern only converted two of their 13 third downs.
This year's matchup looks favorable for Ferris as the Wildcats have allowed seven 30-point games and 414 yards per game this year. Ferris averages 538 yards and 45.8 points per game on offense. Senior receiver Antonio Agurs said that the Bulldogs will prepare this week like any other week.
"We're just going to come at it like we do every week. As a receiver, it's not really our job to get the ball. We want to set the edge and block to open things in our offense and other teams are starting to notice," Agurs said.
Ferris senior quarterback Jason Vander Laan will not be the only record-setting quarterback on the field. Northern Michigan junior quarterback Shaye Brown set a school record for passing touchdowns in a season this past weekend throwing for his 23rd.
Brown has passed for 2,595 yards, completing 188 of 284 attempts this season.
Ferris junior receiver Shakur Sanders said that around this time last year, complacency set in for the Bulldogs, but this year is different.
"We got complacent and didn't have a sense of urgency," said Sanders. "Last year we took the breaks off and took our foot off the gas pedal. This year is different. We're going full steam and not letting up. Our defense and our offense are locked in. We want to win a championship. A conference title isn't enough. We expect that. We want a national title."
Sanders came into the year as a pre-season All-American and has 157 yards on 13 catches with four touchdowns this season. The numbers may seem smaller than last season, but this year Ferris State has an abundance of talent at the receiver position drawing targets away from Sanders. Sanders has also missed some time this season due to injury.
Senior receivers Agurs and Jake Lampman are the leading receivers on the team so far this season. Agurs has 49 catches, 519 yards and Lampman has raked in 34 catches for 516 yards and seven touchdowns.
Ferris will look to keep their 23 regular season game winning streak alive against Northern Michigan on Saturday Nov. 7 at 1 p.m. in Marquette.