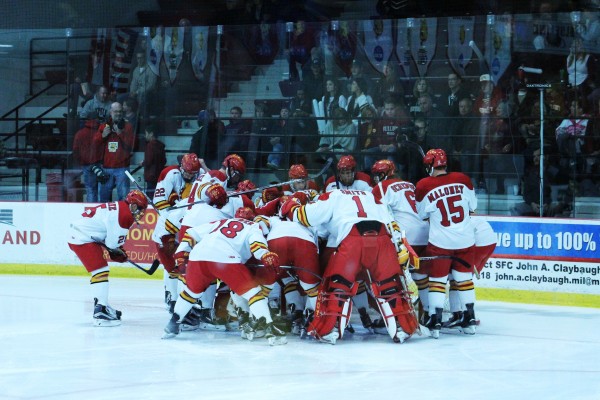 The budding rivalry will resume this weekend when the Bulldog hockey team hosts the Minnesota State Mavericks.
The last two Ferris State hockey seasons have seen some intense games between the Bulldogs and the Mavericks, but the Dawgs have not been able to come out on top.  The Bulldogs are 0-8 when facing Minnesota State in the past two seasons, playoff games included.  Last year, the Mavericks knocked the Bulldogs out of the WCHA semi-finals.
The 2013-2014 season saw Minnesota State take the Bulldogs out of the hunt for the Broadmoor Trophy and the WCHA title, but Ferris State was still able to make it into the NCAA tournament.  Head Coach Bob Daniels saw the rough point in last year's season as an opportunity for his team to overcome and bounce back.
"Last year, while it was a tough year right in the middle for a stretch where wins were allusive, we finished the season very strong," said Daniels. "I was so proud of them.  We never gave up on ourselves and we never gave up on the season."
Daniels knows the importance of perseverance, especially in a long hockey season.  The Bulldogs currently sit at 3-3-2 on the season with a 2-1-2 home record.  Last weekend saw an exciting series in Houghton against the Michigan Tech Huskies.  An overtime goal sealed a 5-4 victory for the Huskies on Friday, but the Bulldogs came back ready to play on Saturday, taking down the Huskies 3-2.
In Friday's game, the Bulldogs looked dominant with three goals in the first period, and the Huskies only found the back of the net once.  The rest of the game saw a dominant performance from Michigan Tech as the Huskies outscored the Dawgs 4-1 after the first period.  Junior goaltender Charles Williams had 26 total saves.
Freshman goaltender Darren Smith played a huge role in Saturday's win, reeling in 18 third period saves.  Smith summed up 36 total saves in the Bulldog's Saturday victory.  The winning goal came courtesy of sophomore forward Andrew Dorantes with only a few minutes left in the game.
The Bulldogs are aware of the fact that Minnesota State is a challenge in their season that will be no easy feat to accomplish, and Daniels has confidence that his team can make this rivalry interesting.
The puck will drop on both Friday and Saturday at 7:07 pm in Ewigleben Ice Arena.