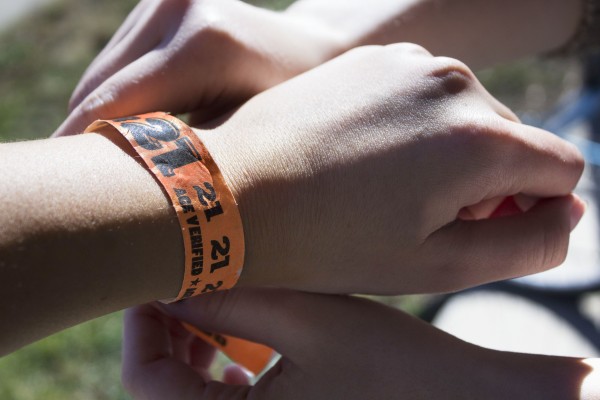 Nothing more than a six-pack and no liquor. Fraternities say throwing parties isn't as easy or fun as it used to be, thanks to Ferris' newly enforced Greek event policy.
The policy, updated this year for the first time since 2006, states that twelve-packs, cases, pitchers and beer bongs are not to be present at any Greek gathering, whether the gathering is formal or informal. The new policy also details that kegs and hard alcohol are never allowed, no matter the size. Playing drinking games and consuming shots of alcohol also violates the policy.
"It just seems a little intense," said Ferris political science senior and Pi Kappa Alpha member Josh Bishop. "Greek life has become very censored because of what's happened all over the U.S. I don't think the policy really makes anything safer."
The events to which the policy applies are defined as a "gathering with alcohol where either 50% of chapter members are present, or 20 or more attendees, affiliated or not affiliated, are present at one time."
The events must be registered on OrgSync and must be approved at least 72 hours prior, with a complete guest list. Alcohol cannot be present at events held on Sundays, Mondays, Tuesdays and Wednesdays, unless there are no classes the day following the party. At least two sober monitors are required at every event.
Party attendees get wrist-banded and are handed a punch card for a maximum of six drinks. Drinks go to a designated beer check person and no more than one alcoholic beverage can be consumed by a party-goer at a time.
"There is a misconception that consuming alcohol is just a part of the college experience and everyone does it," said Matt Jones, Greek life coordinator. "Not everyone is consuming alcohol and it doesn't need to be part of the college experience. Consumption of alcohol is very often a contributing factor to other injuries and crimes."
Jones said the policy was created with the help of students.
"All social Greek chapters have rules and guidelines from their national headquarters and their insurance providers," Jones said. "The University along with student input, updated the policy to be sure to include all the rules they were already mandated to follow. The University did not want to provide rules without offering support so the new policy also provides tools to assist Greek chapters in hosting safe and legal events with alcohol."
Caleb Neiman, a member of Phi Sigma Kappa and the Secretary for the Interfraternity Council (IFC), said that they were completely unaware that there was going to be a policy change.
"We had no idea we would be getting a new alcohol policy and we were never consulted," said Neiman. "We are all really confused about the policy; we are going in blind."
Jones said the policy is being put in place to help students participate in events with alcohol safely. "The events with alcohol policy is a means of educating our students on how to host a safe event with alcohol, specific to Greek Life," Jones said. "Limiting RSO events with alcohol and creating rules to ensure the safety of our students has a positive impact on student success."
Neiman feels like the rules use fear tactics with the specific regulations outlined in the policy. "There used to be a lot of discussion about the policies, and there isn't anymore," Neiman said. "I feel like there are so many ways to get in trouble. For example, if someone shows up with a fifth of Fireball, we have to find a way to cover it up or we will be punished. We have been using the old methods for so long. We need a comprehensive understanding of the violations."
Similarly, an alcohol task force has been created by the University to find trends with the alcohol use on campus. According to Vice President for Student Affairs Jeanine Ward-Roof, the task force is composed of members of various expertise.
"The task force will review current data related to alcohol misuse and abuse by students to better understand how these issues relate to student success," Ward-Roof said. "The task force will be asked to review the effectiveness of current policies and make recommendations for changes and future policies to remedy alcohol misuse and abuse."
"A new alcohol policy is a step in the right direction to improve the Greek Life Community at Ferris," Administrative Vice President of the IFC, Austin Vela said. "The old policy did not reflect the current times. The Greek community has had a proactive approach to understand the policy. The organizations want to be positive that they follow what the policy states."