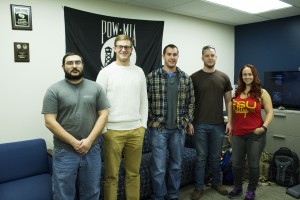 The members of the Veterans Association of Ferris State University are like a tight-knit family.
To the active duty and former members of the military on campus, the Veterans Association room tucked away in the Center for Leadership, Activities and Careers Services (CLACS) office on campus is a safe place. It is a room for veterans to be social, laugh and joke with others who have served in the United States military.
"I think the biggest thing for veterans is that it builds morale," Ferris television and digital media production senior Amber Johnson said. Johnson is an Army veteran and served in the Iraq war. "It's really important to still have that camaraderie. This is like the safe house. When you're in the service, regardless of what branch it is, it's really nice to come back here and be with people who have endured the things you've endured, or they understand where you're coming from on certain issues whether they be political or not."
According to Ferris manufacturing engineering technology junior and Veterans Association president William Green, the biggest advantage is the network the Veterans Association has on campus. Green is an Army veteran who served in Iraq.  Even with this help and support from each other and from resources provided by Ferris, academic life can be challenging for veterans coming to a university for the first time.
"Adjusting to the open schedule of student life can be hard for some veterans," said Veterans Association student advisor and Ferris computer information systems graduate Chuck Rathbun. "Because of their time in the military, they're used to a rigorous schedule and they can often over-commit themselves by taking on too many credits."
Members of the military generally earn some college credits based on their job and experiences while in military service. To service members returning home and attending university, some experiences like foreign deployments being ignored as credit opportunities is a source of deep frustration.
"We as veterans who have gone out to foreign countries on tours lasting up to a year are being told we need global awareness credits. It's almost an insult," said Johnson. "After coming back from deployment, what more can we do to show that we're culturally enriched?"
Adjusting to being around younger students can also be a challenge, said Rathbun. This can lead to what's known as the "Billy Madison effect" to many student veterans.
More true for veterans than the general population, failing to adapt to student life can lead to burn out and leaving school.
"Veterans have a high dropout rate when it comes to school," said Green. "I've seen a statistic, I think 75 or 85 percent of veterans who go to school dropout within a very short amount of time. They just can't adjust or they can't deal with it. I also read that Ferris has one of the highest retentions of veterans that go to school."
Green said he couldn't help but wonder if a number of factors help Ferris retain former and active military as students, such as an active membership of students in the Veterans Association on campus to the small town feel of Big Rapids and plenty of things to do outdoors.
As an organization bringing up these issues, and with the help of on-site resources like Jacob Schrot speaking with members of the Ferris State University administration, the Veterans Association might have a victory in addressing grievances veterans have at Ferris.
The Veterans Association meets at 11 a.m. every Thursday in room 121C of the University Center.