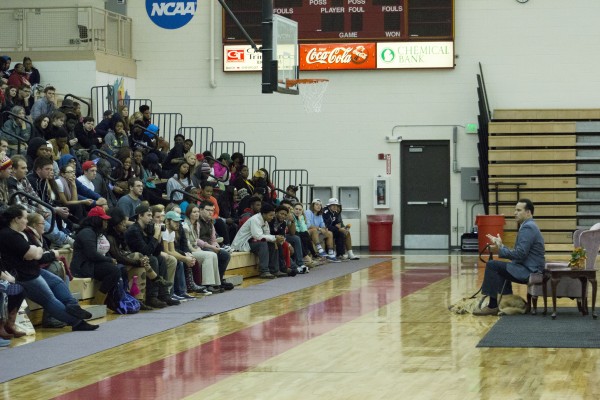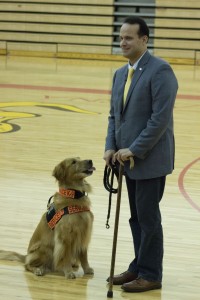 With his life-saving golden retriever by his side, Army veteran and bestselling author Luis Carlos Montalvan gave an impassioned speech to a packed crowd as an event for Ferris' Disability Awareness Month.
Students packed into Wink Arena last Wednesday to hear Montalvan speak about the importance of disability awareness month and the stories told in his bestselling book, "Until Tuesday."
"The importance is huge. People with disabilities are the largest minority in this country," Montalvan said. "The fact that Ferris State University has made it such an integral part of its academic year, the culture of the campus and the focus of some courses is phenomenal."
Ferris freshman Ashley McFarlane was hooked after being required to read it for a literature class.
"I just fell in love with the book. Especially for people who have family members who serve or have served in the military, it's a great opportunity to understand what's going on with them."
Montalvan, who served as a captain in the Army until 2007, spoke about living with disabilities, his service dog, Tuesday and how to be an advocate for issues related to disabilities.
In addition to his decorations for service in Iraq, Montalvan was awarded the Military Outstanding Volunteer Service Medal. He is a qualified military parachutist and has conducted airborne jumps with Czech, Thai and Slovak armies.
"Until Tuesday" tells the story of Tuesday, the charismatic golden retriever who helped Montalvan overcome post-traumatic stress disorder and alcoholism. Montalvan also talked about the rights of people using service dogs and how important they are to people living with a disability.
Montalvan stuck around after his speech until nearly 11 p.m. to sign copies of his book, take pictures with fans and to hear stories from others affected by disabilities.
This event rounded off Ferris' Disability Awareness Month, which included a wheelchair basketball game, resource fair and several speakers. This year was the Americans with Disabilities Act's 25th anniversary.