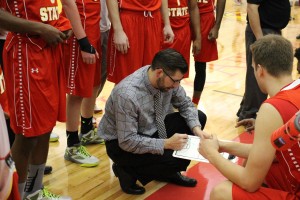 The Ferris State men's basketball team takes on Division I schools Central Michigan and Michigan State this week in exhibition match ups.
The Bulldogs take on Central Michigan University (CMU) at the Chippewas McGuirk Arena in Mount pleasant on Nov 7. The Chippewas were chosen to win the Mid-American Conference West Division (MAC) and the league tournament in preseason poll.
The Chippewas have two seniors, Chris Fowler and John Simmons, that were named to five-member All-MAC Team.
Senior wing James Chappell was able to talk about the opportunity of the team playing these games. "I think when we play these few exhibition games we have to focus on us exactly. We still are competing to win the game but if we do more on focusing on defensive rotations and things of that nature we will win," Chappell said.
After the Bulldogs take on the Chippewas, two days later the Bulldogs will take on Michigan State University (MSU) at the Breslin center in East Lansing and the game will be televised on Big Ten Network (BTN) plus. Michigan State is ranked 13th in the nation according to ESPN USA Today Coaches poll.
Michigan State has quite the history and under Coach Tom Izzo's tenure and has been exceptional. One national championship and seven Final Fours in 17 seasons would be considered great by any measure for a normal coach. Coach Izzo is not a normal coach though, he takes teams that aren't considered championship caliber teams and wins games.
Ferris redshirt freshman Andrew Meacham has been a huge Michigan State fan while growing up. "It's exciting getting a chance to play against one of the better division one programs in the country. I grew up going to MSU games and cheering for them, so it'll be different going to East Lansing and trying to beat them," Meacham said.
Michigan State will be facing a talented Ferris State Bulldog team that's bringing back four seniors and two talented sophomores that saw significant time in their initial seasons a year ago.
Ferris coach Andy Bronkema will be coaching against Izzo, who is considered one of the best coaches in college basketball.
"It's going to be a lot of fun. Great opportunity and the fact that he is willing to play us and help us out there, but we're just trying to see how our team is going to develop. We got some guys that are wondering if they are going to be in the rotation or whether they are going to fall into play this year. I'm sure he's got some question marks about his team and the preseason is the time to get those answers and that's what I'm focused on," Bronkema said.
The Bulldogs were chosen in preseason polls conducted by the conference's head coaches to finish second to Saginaw Valley State in the GLIAC North Division preseason poll. Bulldog seniors, Josh Fleming and Jared Stolicker were among the five players named to the preseason All-GLIAC North Division First Team.
Senior wing Josh Fleming is prepared to battle against CMU and MSU. "It'll be fun to go out there and compete with those teams. They both have really good players and MSU's basketball program has a lot of great history behind them. I'm excited for the opportunity to see how we match up with those two good teams," Fleming said.