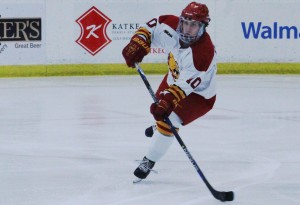 Ferris State hockey defeated the Minnesota State Mavericks for the first time since the Bulldogs joined the WHCA on Friday by a score of 7-4.
The first goal of the game was scored within the first two minutes by sophomore forward Andrew Dorantes with assists from freshman forward Corey Mackin and sophomore forward Tyler Andrew.
Halfway through the first period, junior forward Gerald Mayhew was penalized for high sticking which put Minnesota State in a power play situation. The Mavericks capitalized with a goal shortly after.
Near the end of the first, the Bulldogs had a power play of their own when Mayhew scored from inches out off an assist from senior defender Simon Denis.
The Mavericks scored on a breakaway goal to tie the game in the second, but the Bulldogs were undeterred as senior defender Sean O'Rourke scored less than a minute after with assists from junior forward Jared VanWormer and sophomore defender Zach Szajner.
Emotions began to flare at that point. Players had to be separated multiple times. One such incident led to sophomore forward Mitch Maloney being put in the penalty box.
To add onto that, sophomore defender Tyler Dorantes was called for boarding a minute later which left Ferris with three men on the ice. The Bulldogs managed to keep the puck out of their net.
After a brief hiatus from the violence, a fight broke out between both teams when Mayhew and senior forward Kyle Schempp were placed in the penalty box along with two Mavericks.
Both of these Ferris players were involved in a scoring play in the third period when Schempp scored a power play goal off assists from Mayhew and Mackin.
This was followed by a frenzy of scoring from both teams. The Mavericks scored twice in two minutes to tie the game at 4-4, but O'Rourke scored shortly after to take the lead.
The Bulldogs were not done after that. Junior forward Chad McDonald scored off an assist from VanWormer to ice the game.
Freshman Darren Smith got his second consecutive start in goal. He had 34 saves on 38 shots allowing four goals. The Bulldogs are undefeated when Smith has started this year.
The Bulldogs will take on Minnesota State again tomorrow in Big Rapids at 7 p.m.