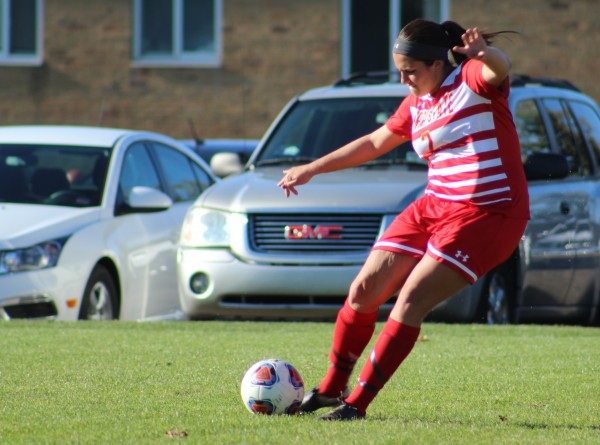 Thanks to a pair of Ashland goals in the closing minutes of play during Friday's GLIAC semifinal matchup, Ferris soccer fell to the Eagles 4-3 in a heartbreaking loss to end their season.
The Bulldogs got off to a blazing start, as junior defender Meredith Smith netted a goal just 1:47 into play in the first half. The Bulldogs didn't ease up as sophomore midfielder Rachel Fouts scored another goal with assistance by senior forward Nicole Boehnke just over eight minutes later.
After an early flurry of offense, the game became a defensive battle until the game clock was inside the final two minutes of the half. With just 1:18 left to play before intermission, Ashland's Kelsey McKernan booted an unassisted goal from 25 yards out to bring the game within one goal. Still, the Dawgs clung to a 2-1 lead headed into the half.
The Eagles would score first to start the second half of play, courtesy of AU's Chandra Hohne. Though Ferris would quickly take the lead back, with an unassisted goal coming off the foot of senior defender Lindsey Scott.
With a 3-2 lead and only four minutes to play, the Bulldogs looked as if they would be advancing to the GLIAC Tournament Championship game. However, Ashland's Deijah Swihart came alive in the closing minutes, scoring two goals for the Eagles and sending the Bulldogs home with a gut-wrenching 4-3 loss.
Postseason hopes may not yet be dashed for the Dawgs, who currently stand at a 14-5-1 overall record. The top six teams in a region are selected for the NCAA Div. 2 playoffs, and going into the game today the Bulldogs were ranked sixth, with Ashland following closely behind at seventh.
Whether or not the Bulldogs will fight for another game this season will be known on Monday at 6:30 p.m. when the tournament pairings are announced at NCAA.com.