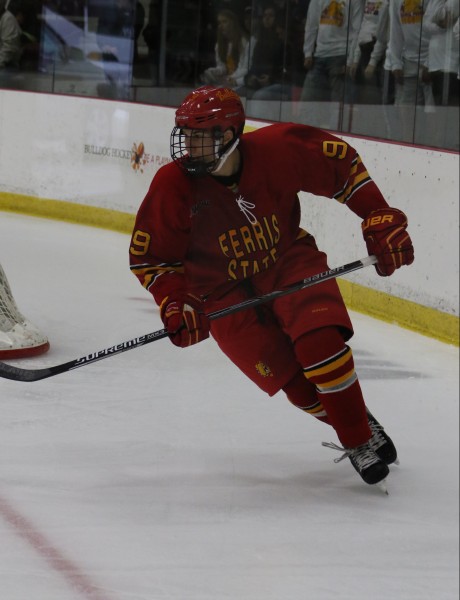 After a big victory Friday night, the Bulldogs fell to the Minnesota State Mavericks 3-2 in what was an intense game of hockey.
The Mavericks struck first after junior forward Zach Stepan slipped one past freshman Bulldog goaltender Darren Smith at 1:39 in the first period. The Bulldogs answered back at 6:44 after a Ferris State power play allowed senior forward Kenny Babinski to find the top left corner of the net off the assist from Andrew Dorantes and Ryan Lowney, bringing the score to 1-1.
Scuffles broke out early on in the contest, setting the intense tone for the rest of the evening.
The game was scoreless through the rest of the first after the Babinski goal. The second period started out slow until freshmen Bulldog forward Corey Mackin slid one in behind the goalkeeper at 9:33 off the assist from, once again, Lowney and Dorantes to go up one on the Mavericks.
The back and forth action continued as Minnesota State junior defensemen Casey Nelson put in another Maverick goal at 11:00, bringing the contest to a tie. At 17:29 in the second period, it was sophomore forward Zeb Knutson who would score the goal for the Mavericks to give Minnesota the 3-2 lead.
The Mavericks went into the third period up one on the Dawgs, and that's where they stayed for the remainder of the contest. The Bulldogs had a few opportunities to put one in the net but could not capitalize, falling 3-2 against the Minnesota State Mavericks.
The rival between these two team was given some life after the Bulldog victory on Friday. The Bulldogs lost five in a row to the Mavs before their victory last night.
With the Saturday defeat, the Bulldogs take their first loss of the season when starting Darren Smith in goal. Smith had 30 saves on the night.
The Bulldogs are back in action this weekend, starting Nov. 13, when they head to Anchorage, Alaska for a weekend series up north.