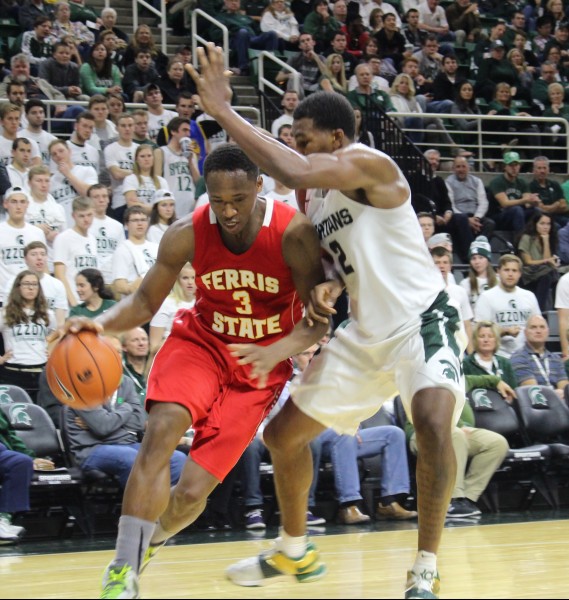 EAST LANSING—Ferris Basketball lost to Div. 1 No. 13 Michigan State Spartans on Monday in exhibition action 93-57.
Both Ferris and MSU played tough defense to open up and were tied 8-8 before MSU went on a run to lead by as much as 20 in the first half.
A multitude of turnovers and missed shots plagued the Bulldogs. Ferris shot 33 percent and had 9 turnovers during the half.
Three consecutive dunks by MSU's Gavin Schilling started a frenzy of inside scoring for the Spartans. They totaled 24 points in the paint through the half.
Ferris State had much more success in the second half shooting the ball. Sophomore guard Drew Cushingberry hit two consecutive three point shots to spark a run that cut the lead to as low as 12.
However, Michigan State continued their dominance inside and matched most of Ferris' outside shots.
The Spartans pulled away once again after the ten minute mark of the second half and never looked back.
Leading scorers for Ferris were senior forward Josh Fleming with 15 points and Cushingberry with nine. Bulldog senior center Jared Stolicker grabbed seven rebounds playing against tough competition down low. Meanwhile, Ferris freshman wing Markese Mayfield recorded three blocks on the night.
Though the score was mightily lopsided, MSU head coach Tom Izzo had encouraging words for Ferris.
"Ferris is going to be a very good team in that league," Izzo said.
The game will be aired on television at 1 p.m. today for those that missed the action last night.
Ferris State Basketball looks start the regular season against Missouri-St. Louis in Allendale, Mich. on Nov 14 at 2 p.m.