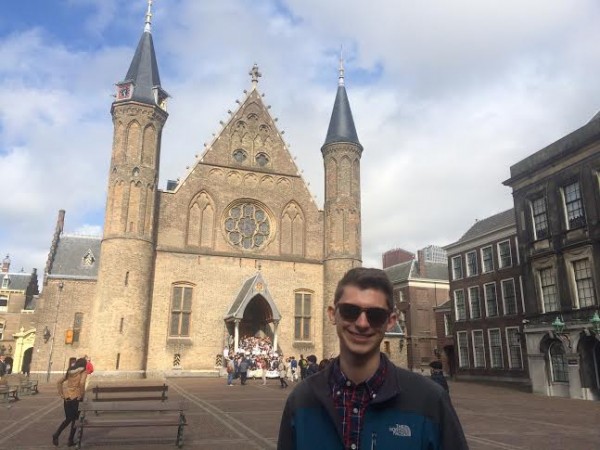 Most students would agree that studying abroad is a good choice to make.
"There are really cool opportunities, and you don't have to break the bank to do it," said Will Sartore, Ferris' education abroad coordinator. "We try to accommodate as many students and majors as we can."
Sartore said studying abroad is a great opportunity for social, academic and personal growth.
"Find a place that interests you and start asking questions," Sartore said. "Ask what programs are available, research and start planning. Then come talk to us, and we can carry you to those next steps."
Ferris hospitality management junior and Student Government President Wayne Bersano spent five months enrolled at Rhine-Waal University of Applied Sciences in Kleve, Germany.
Bersano lived in a house with people from five different countries while in Germany.
"Every person brings a little piece of where they come from with them and I feel like I had the ability to get a sneak peek of so many different countries," Bersano said. "I can now say I have friends from almost every continent in the world and that is quite satisfying to say."
Bersano said the schooling at Rhine-Waal was different than it is at Ferris.
"It was difficult for me to adapt to the different learning style, because in Germany instead of getting assignments, tests and quizzes throughout the semester, all you do is go to lecture and then you have to study on your own because there's just the final exam at the end of the semester," Bersano said.
There's also a new opportunity for Ferris students to study at one of the most prestigious universities in the world, Oxford.
Ferris is partnering with the Oxford Study Abroad Programme, or OSAP. The program allows Honors students from Ferris and other universities from around the U.S. to study at Oxford. It requires a GPA of 3.0 or higher, at least two years of college completed and additional application materials.
Dr. Peter Bradley, who is the director of the Honors Program at Ferris, is the main connection on campus to OSAP.
"It's like a guided independent study," said Bradley. "That's how everything is done at Oxford. You work one-on-one with a professor on a subject you're interested in. It's one of the more expensive programs, and it's incredibly intense. This is not the easiest way to get six credits. The experience would be invaluable, though, to have Oxford on your résumé."
Bradley said students have more opportunities to get immersed in a country's culture if they are there for a longer period of time.
"To really experience a culture, you have to do things like shop for yourself and cook for yourself," said Bradley. "Those are the kinds of skills that get developed in a foreign culture when you're living there. If you're just there traveling through, you don't get those kinds of experiences."
Students who are not Honors students still can apply to OSAP with the help of Dr. Bradley.
For the students who don't want to go to Oxford, there are different tracks for studying abroad including shorter programs in Costa Rica and Italy and longer ones with Ferris' partner universities, including Rhine-Waal. There are also other places students can go besides the partner universities.
Students who are interested in studying abroad for any amount of time can attend the Education Abroad Fair on Nov. 17 from 9 a.m. to 3.p.m in the University Center to learn more about the programs.