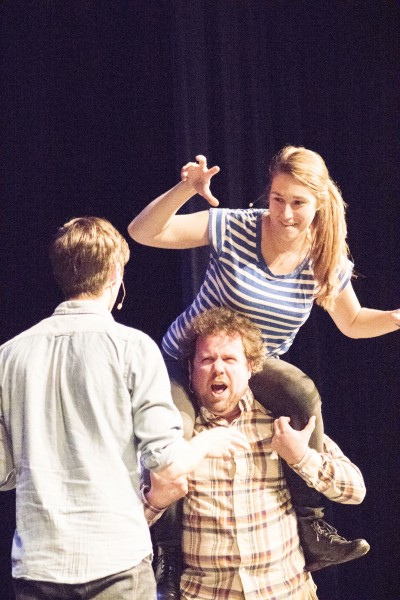 A group of Upright Citizen Brigade's most promising young comedians kept students laughing with a completely improvised performance in Williams Auditorium.
Founded in part by Amy Poehler, Upright Citizens Brigade's UCB TourCo was brought to Ferris by Entertainment Unlimited. UCB owns four theatres, had a show on Comedy Central and has a training center. Over the years, UCB performers have included comedians such as Andy Richter, Horatio Sanz, Ellie Kemper and Ben Schwartz.
At the show, Ferris welding junior Dan Rooyakkers was brought on stage and interviewed about his day for information the group could improvise off of. He retold his day of making breakfast, roommate conflicts and a calculus class. After the interview, the improvisers played out dozens of scenes absurdly remixing concepts from Rooyakkers' day, as well as a scene exploring Ferris' "haunted" Alumni Building with a baby ghost.
"I thought I had a pretty boring day, but it was cool to see what they made of it," Rooyakkers said.
UCB-style improv is quite different from the "Whose Line is it Anyway" format of games most are used to. The scenes constantly evolve and change. With just three text messages from the audience, the UCB TourCo group was able to improvise the entire second half of the show.
UCB TourCo improviser Matt Starr taught an improvisation workshop earlier that day in the University Center. About a dozen Ferris students improvised comedic scenes with Starr, who gave a crash course in the UCB-style of "saying yes" and "finding the game" in any given situation.
"In general, improv philosophy is good life philosophy," Starr said. "Since I started doing improv, I've found myself feeling awkward a lot less. Life is weird and improv is an art form that celebrates that rather than makes fun of it."
Buse Yilmaz, an international student from Turkey, had never tried improv comedy before the workshop.
"It was not as scary as I thought it would be," Yilmaz said. "Matt was really supportive."
Ferris hospitality junior Kayla Garrett is a member of Ferris' Improv Group who attended the workshop. She said the Improv Group has recently been experimenting with new forms of improv and was excited to learn from a professional.
"In the Improv Group, we've been doing some of the same things, but being taught from a professional standpoint was a lot more of a learning experience."
Ferris' Improv Group meets every Sunday from 7 to 9 p.m. in the University Center. For more information about Upright Citizens Brigade, visit ucbcomedy.com.