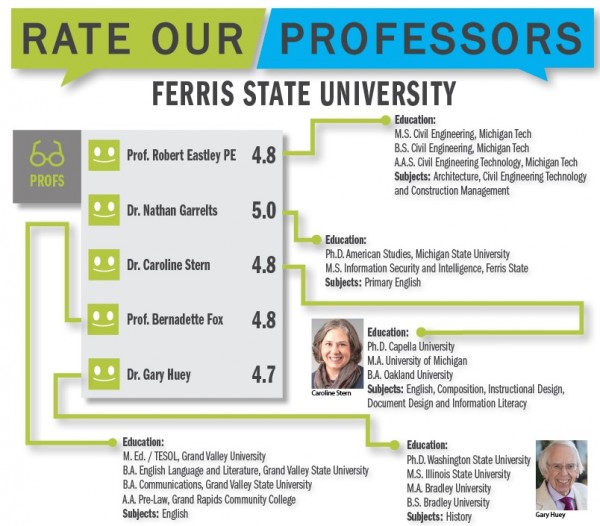 It's time to register for classes and to roll the dice with which professor will be best. As you type the URL into the search bar, you get that familiar feeling of anticipation mixed with just a little bit of fear that comes every semester.
The page loads, and you begin to wonder what exactly you are signing up for and, before long, you have your answer courtesy of ratemyprofessors.com.
The website is designed in such a way that you can search for professors either by school or by name. Then those results can be narrowed down by subject and filtered by a number of ratings, including most helpful, clearest, easiest, etc. There are many ways to apply these filters to find the best and worst of the lot.
In many cases, those with the most ratings fall into the middle of the pack. What can be misleading, though, is that the highest and lowest rated professors sometimes only have that score because they have had only one or two reviews submitted about them.
Shown above are five of the best professors at Ferris State University, according to ratemyprofessors.com.
The most common comment from students on all of these professor's profiles is that they are helpful and truly care about the wellbeing and success of their students both in and out of the classroom.
"I know that students don't drive brand new cars and I know that some of them have family and financial problems," said Dr. Caroline Stern.
"They pay $1,200 for my class. I understand the financial investment that they've made, so my job is not to weed students out, my job is to teach the students I have and if that takes more time on my part then that's worth the investment they've made in Ferris. That's part of my job."
Dr. Gary Huey, recipient of Ferris' 2014 Distinguished Teacher Award, feels the same about teaching. Having been teaching for 38 years, he just isn't ready to retire and leave his students yet.
"I have been teaching here since 1986 and I started [teaching] in 1977," said Dr. Huey. "I am 69 and people ask me, 'When are you going to retire and do something that you enjoy?' and my response is always, 'I am doing something that I enjoy!' I'm just having fun and I'm making a pretty decent salary on top of it. I just feel like I've been incredibly fortunate that I've been able to spend the vast majority of my life doing something I love."