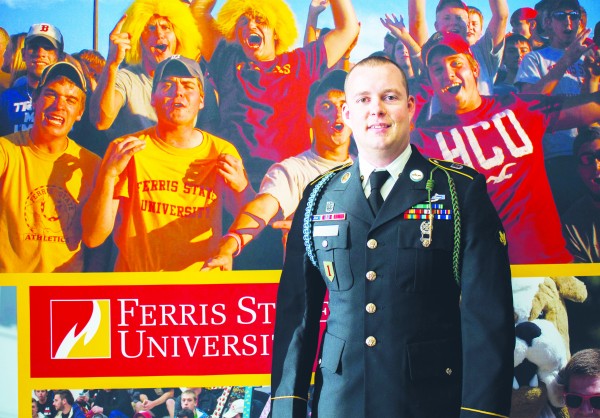 More than 2.6 million Americans have served in the wars in Afghanistan and Iraq, with thousands returning home annually to civilian and student life.
Ferris heavy equipment technology freshman and Army infantry veteran Gabriel Mancil is one of those thousands of student-veterans. Like many disabled veterans coming home from war, Mancil has chosen to continue his education with the Vocational Rehabilitation Bill. Similar to the G.I. Bill, Vocational Rehab pays for his school through a job training program for disabled veterans.
"Because I was infantry, the career choices when you get out are police officer, game warden or working in the prisons," said Mancil. "If I went to be a police officer somewhere, I'd be stuck behind a desk. I don't want that. I'm more of a hands on person."
When looking at his career choices because of his disability, Mancil said he likes to work on truck engines and mess around with tools in the garage. When his tests from Vocational Rehab also indicated mechanical skill, he picked heavy equipment technology at Ferris State to pursue as a career.
Hailing from Warner Robins, Georgia, Mancil joined the Army in Feb. 2011 and completed basic training and advanced individual training at Fort Benning, Georgia. After basic and infantry AIT, Mancil was assigned to Fort Riley, Kansas to the 1-28, Audie Murphy's old regiment during World War II. Mancil was there for about nine months before deploying to Afghanistan. Training was focused on deployment, with lots of physical training and lots of walking.
"I sought out the infantry because I didn't want to be in a support role, I wanted to be where the action was," said Mancil. "I was a rifleman in my squad, and I also carried the aid bag. I always had to carry it outside the wire, so I became proficient in delivering first aid until medical help could arrive."
While training at Fort Riley, Mancil started talking online through a dating website to his future wife Suzanne. She's from Fremont and she would drive to visit him in Kansas. They started dating in July 2011 and were married in October the same year.
Being an infantryman led Mancil to Combat Outpost Margah in the Paktika region of Afghanistan, where he was deployed from May 2012 to January 2013. The unit Mancil was in was dubbed Combat Company. It was fitting since this is what he had trained for.
"We were two miles from Pakistan, so the Taliban would bring in the new guys they were training on their mortar systems," said Mancil. "And they would use our little COP as a target. So when I first got there they were really bad at shooting at us. They were about 100 yards outside the wire, and every day they would get closer and closer. If you look it up in the Army Times, my commander said we were the most mortared COP in Afghanistan."
The Combat Infantry Badge was awarded to Mancil after a firefight he and his unit were involved in and is one of the awards he's most proud of. While on patrol they walked through a village and the Taliban waited until they were about halfway back to the base before they started shooting at Mancil's unit. His patrol successfully fought them off without losing anyone.
Other companies weren't so lucky. Six soldiers were killed from the same battalion operating in the Paktika region while Mancil was deployed there.
"If someone got hurt anywhere in our AO, that's our operations zone, they would do a communication blackout where no one's allowed to use any computers," said Mancil. "That way the family could get notified first. And the blackout would be anywhere from a day or two. So my wife would freak out."
Sometimes it would be 45 hours into the blackout and someone would get hurt again, so it could be three or four days before people back home would hear from the soldiers stationed at COP Margah.
"One thing the Taliban loved doing was shooting at us outside of the wire, so we called it the Margah Mile," said Mancil. "They had some spotters who sat on the mountain tops and they'd see us outside. So we'd have to take off really fast when they started shooting. For the day, we were on an eight or nine mile patrol and the first and last miles were a dead sprint. So that was pretty fun. Back inside the wire, some people would be laughing and throwing up at the same time."
Mancil broke a bone in his foot in Afghanistan and spent the last six weeks of his deployment feeling like there was always a stone in his boot. Mancil arrived back in the United States and got surgery on his foot, but he still has nerve pain that makes walking difficult some days.
Mancil spent the remainder of his time in the Army at Fort Riley and was medically discharged in January 2015. He and his wife moved to the Fremont area after his father-in-law told him about Ferris State University.
"It's not bad here at Ferris," said Mancil. "The instructors are really nice and they're working to get me out some of the core classes like cultural enrichment because I was in the Army. You have to do stuff like that before you deploy, because you don't want to offend. In training, for example, we were taught not to point with our left hand because it's the hand they wipe with. It's supposed to be really offensive."
Heavy equipment associate professor Austin Williams enjoys having Mancil in his class. Williams said Mancil demonstrates great leadership qualities in class and has been helpful to others.
"During equipment operations, Mancil stepped in to help another student struggling to understand the controls without me having to ask someone," said Williams. "He's dependable and does well in class."
Mancil and his wife Suzanne live in the Fremont area with their daughter, Emma Grace.