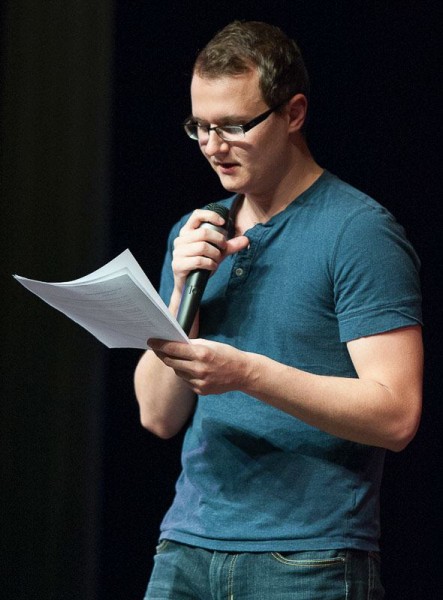 Ferris marketing senior Evan Pazkowski is a familiar face on campus.
Throughout the last four and a half years, Pazkowski has been extremely involved in Ferris life. From being the last homecoming king to the president of Entertainment Unlimited to hosting his own talk show, Coffee Connect, many students recognize and know him.
His time as a super involved bulldog is coming to an end, however. Pazkowski is graduating next month and leaving his Ferris home.
"I'm sad to leave Ferris, but I'm ready," he said. "I'm ready for new opportunities."
Pazkowski said he thinks he's mostly ready to enter life after college.
"I've never really experienced the real world," he said. "I've just gone from school to school to education to education so I've never gotten a taste of what the real world is like. But I think college has prepared me for the most part. There are always those things you can't predict, though, and that's what I'm looking forward to because life's boring if you can predict everything."
This year, Pazkowski was on the homecoming committee, a summer orientation leader and started Coffee Connect, a mini talk show where he chats with various Ferris leaders. The year before that, Pazkowski coordinated Ferris Fest 2014, featuring Karmin and Reel Big Fish, was a senior member of the finance division and hosted Ferris Out Loud and Battle of the Sexes.
"Ferris has given me an overwhelming amount of opportunity throughout my entire time here," Pazkowski said. "I've taken most of those opportunities and, boy, have they paid off. Ferris can offer such real-world application for a university setting. It's cool. I love Ferris."
Homecoming week last year is Pazkowski's best memory from his time at Ferris.
"That was just a blast," he said. "When you're running, your whole friend group comes in and helps with everything. That's the best because it feels like a team effort. You get to be represented and go to a bunch of events."  Pazkowski's second favorite Ferris memory is living in Miller and Taggart residence halls his first two years. Seeing his face on one of the banners on State Street is his third favorite memory.
Pazkowski did two internships while at Ferris, one at the Hyatt in Sarasota, Florida. Pazkowski was recently offered a job at the Hyatt in Grand Rapids, but turned it down. He's now looking for different jobs in marketing, entertainment and event planning.
"I've been going to a bunch of breweries and wineries," Pazkowski said. "I've also applied at a couple places in San Francisco. I've always wanted to live there. It just seems like a happening place."
Beyond that, Pazkowski plans to go to grad school for philanthropy and nonprofit leadership. A leadership institute called LeaderShape he attended this summer made him want to go into the nonprofit sector.
Pazkowski eventually wants to start a nonprofit that provides lessons from local musicians to kids who can't afford them.
Pazkowski said music has always been a huge part of his life. He plays bass, guitar, drums, piano, ukulele, mandolin, French horn and dobro. He also raps in the comedy and music duo, The U.S. Korea Free Trade Agreement.