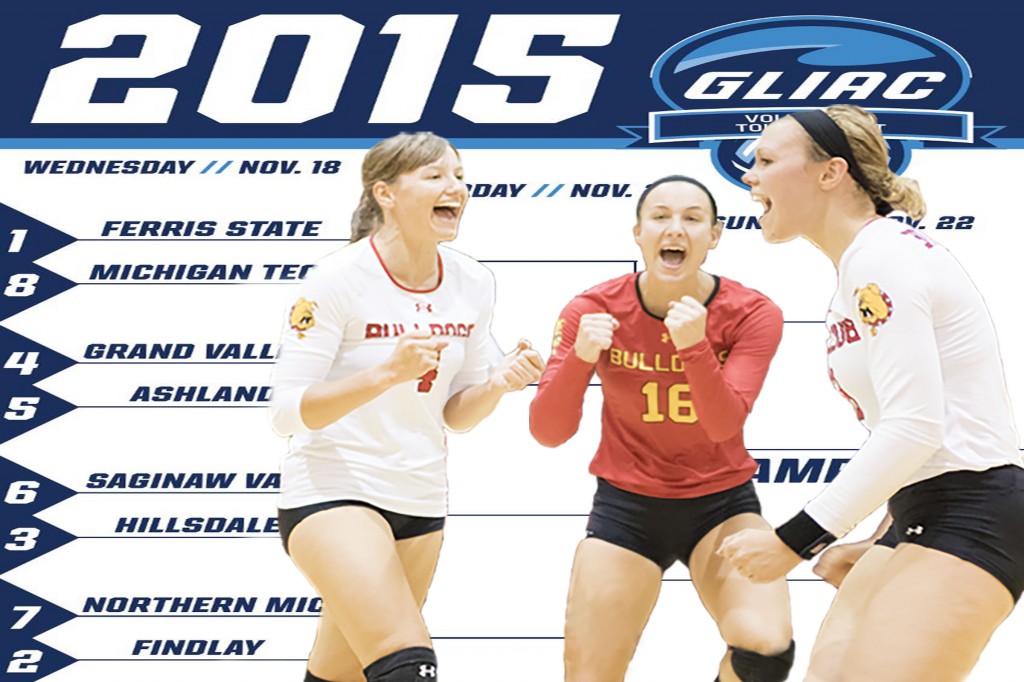 The Bulldog women's volleyball team capped off a great 2015 regular season, but this end is just a new beginning as the GLIAC Tournament kicks off on Wednesday night.
Ferris State volleyball brought their overall regular season record to an impressive 28-2 with a .933 win percentage. The Dawg's regular season conference record ended at 17-1 with their final win coming against Saginaw Valley in an exciting 3-2 victory last weekend. Their 17-1 conference record matches last year's win total, while the Dawgs improved on their overall record from last year, winning four more total matches.
Looking back and acknowledging the great season the Bulldogs produced is all well and good, but according to senior outside hitter Alexis Huntey, the focus is on the GLIAC Tournament and their next opponent. Huntey said that the team's success is helped by all the work that the ladies put in during the offseason.
"It's definitely an exciting time of the year, but we're just focusing on playing hard and not taking any opportunities to play for granted," said Huntey.
Huntey and the other Bulldog upperclassmen are no strangers to victory when it comes to the GLIAC Tournament. The women brought home the GLIAC Tourney title last season after defeating Grand Valley State University in the championship game on GVSU's court.
Ferris is now focused on the Huskies of Michigan Tech, their opponents in the first round of the tournament. The Dawgs were able to lock in a home matchup for the first round, taking on a Huskie team that Ferris State swept 3-0 this season on the Huskie's home court.
Senior outside hitter Megan Vander Meer made it difficult for the Huskies to get the ball down, hauling in 16 digs for her team in the regular season matchup. Huntey and Caroline Heitzman led the offensive charge in the Bulldog's win, tallying up 11 kills apiece.
According to assistant coach Christa Jung, these hardworking Bulldog women are focused on constant improvement in a conference that they know will always come ready to compete.
"One primary thing that our team focuses on is getting better every day," Jung said. "I think that when we reflect on past games, we are constantly evaluating the things on our side that we can get better at and improve on."
Coach Jung said that the senior leadership on the volleyball squad is a huge part of the Bulldog's success, as they set an excellent example for the younger players when it comes to work ethic and the values that the team holds.
Jung said, "We aren't finished yet, we are still improving, and will continue to do so."
Come out and cheer on the Lady Bulldogs tonight, Nov. 18 as they host the Huskies in Big Rapids at Ewigleben Sports Arena at 7 p.m.