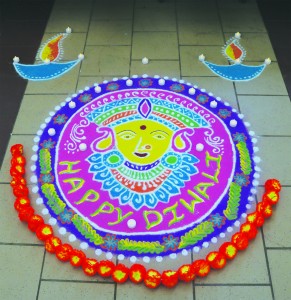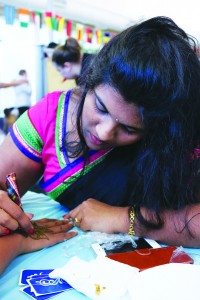 Diwali festival last week to celebrate and learn about Indian culture.
The Diwali-themed international carnival was held in the IRC last Friday night. Diwali, also known as the Festival of Lights, is comparable to the American New Year celebration. It represents the victory of light over dark. The Hindu celebration is a five-day ritual that occurs between mid-October and mid-November on a Western calendar.
"We wanted to call it an international carnival so it was fully inclusive," said Lisa VonReichbauer, assistant director of the Office of International Education. "We chose Diwali as the theme since it fell on this week."
Sai Goutham, a first year graduate international student at Ferris, explained how Diwali is celebrated in India.
"When we celebrate, we wake up early in the morning and we pray to our goddesses," Goutham said. "We clean all of our stuff so everything is new, and in the evening we eat and set off firecrackers."
The festival began with a presentation that explained Diwali and what it means in Indian culture. Throughout the night, participants experienced Indian music and dance, sported henna body art, tasted traditional Indian dishes and participated in a sand art activity known as Rangoli.
The event was planned by the International Student Organization (ISO) and the Indian Student Association with help from the Music Industry Management Association. Ferris information security major Sai Teja is an ISO board member who helped organize the carnival.
"We've been planning this for about two months," said Teja. "We gathered our friends and people we know to help us make the food and decorate and do dances. We wanted to bring all types of people here, so we hung up all of the international flags to bring everyone together."
The festival brought in an audience of more than 100 people of many nationalities.
"I've really enjoyed learning about the purpose of Diwali and what it means," said Ferris sophomore Collin Grand. "I've learned about their culture, like why they wear certain things and the purpose behind henna. It's been really fun."
Ferris State currently has around 110 Indian students, but that number has been decreasing over the past few years, according to VonReichbauer.